The Digital for Life Fund (formerly known as Our Singapore Fund for Digital Readiness) supports ground-up community projects focused on digital literacy and digital wellness, initiated by individuals, non-profit organisations, and companies. These projects aim to help all Singaporeans embrace digital and enrich their lives, promoting Digital for Life initiatives.
Project Get Flamed!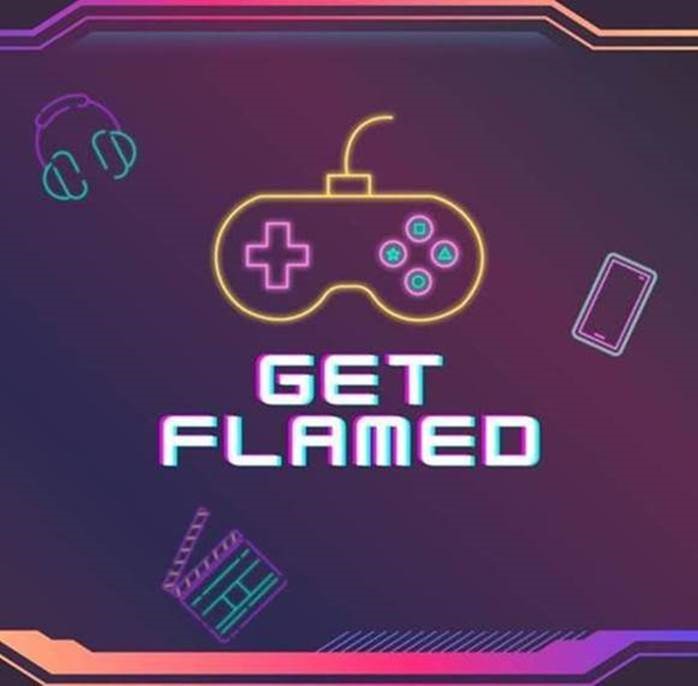 While gaming is an avenue for many youths to relax and have fun, there has been a worrying uptick and normalisation of toxicity within the gaming community. Project Get Flamed! aims to raise awareness on the chain of reactions it has amongst gamers and their circle of relationships and empower youths to take the first step to build a more inclusive, positive gaming community.
Participants from selected Secondary Schools, Self-Help Groups and Social Service Agencies will be engaged in a 2-part programme, being the "Gaming Conversation Series" and "Virtual Adventure". The first segment allows participants to hear from the professionals via a reality talk show where they will share their personal encounters with toxic gaming culture and discuss questions on toxicity and its repercussions. The second segment allows participants to experience gaming in a renewed light, where they will view a video and make their own choices at the end of each clip, and realise the impact of their decisions in a safe environment.
To find out more, click on the project page, or follow them on Instagram!
3D-Tronics Competition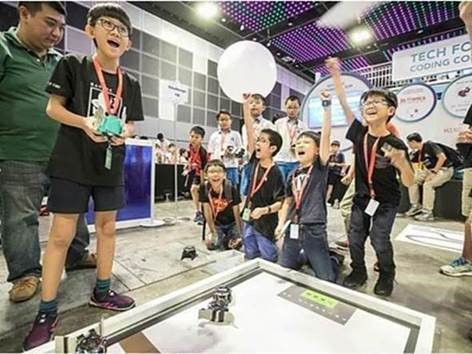 Zenitant aims to promote digital well-being among students by providing them with opportunities to learn coding, digital making, and computational thinking skills. By equipping students with these skills, they can better navigate the digital age and develop solutions to real-world problems faced by their communities.
The 3D-Tronics Challenge is an annual event which has started since year 2015. The theme for this year's competition is: "Making use of Technology to Build Resilience in a Covid Endemic Singapore". Participants will use their microcontroller kit to create a prototype that will address the above problem statement and submit their entries online.
To find out more, click on their website and follow them on Facebook or Instagram!
Project Digital Inclusion Programme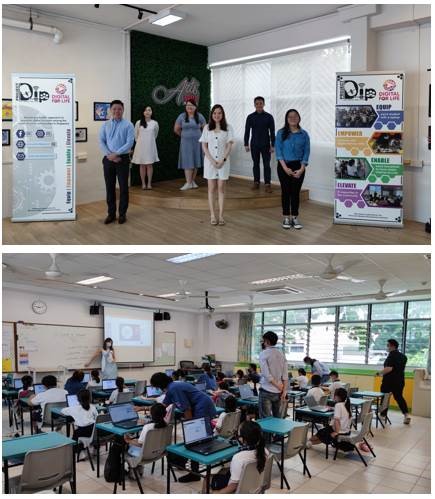 To tackle the increase in usage of technology since the COVID-19 pandemic, Project Digital Inclusion Programme (Project D.I.P.) wants to build digitally inclusive communities in Singapore to ensure everyone in society progresses together. Project D.I.P. rallies support from the People, Private and Public (3P) sectors to (a) equip each student with a laptop, (b) empower students with digital literacy skills, (c) enable households to have Internet access and (d) elevate IT capacities in the community. Project D.I.P. conducts workshops to build up laptop operating skills and inculcate cyber-hygiene habits for students from lower-income families. The team also trains youths to be IT ambassadors and set up interest groups in the People's Association grassroot organisations to roll-out suitable workshops based on needs and interest-areas identified in each community.
Project D.I.P is also working to equip students with laptops and enabling each household to have stable internet access through IMDA's NEU PC Plus and Home Access programmes.
To find out more, check out their works on https://www.projectdipsg.com/
OneArena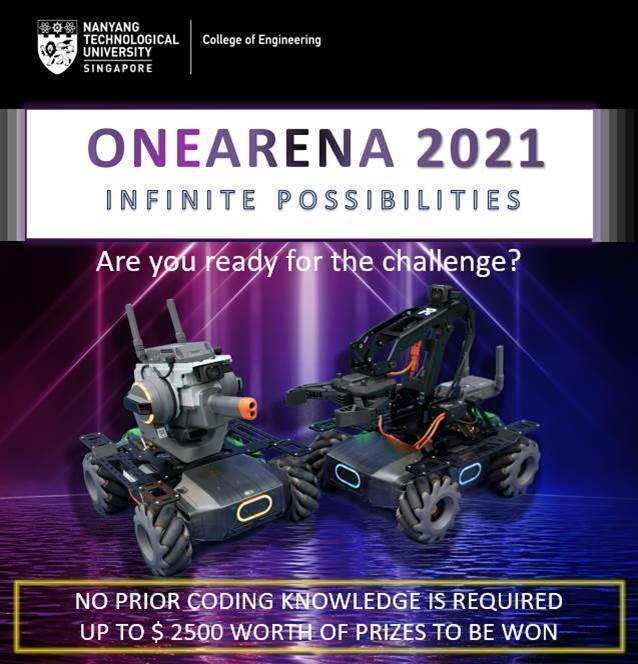 Nanyang Technological University's College of Engineering wants to inspire youths aged 14-22 years old to pursue a career in Science, Technology, Engineering and Mathematics (STEM), and help the community understand how STEM can be applied in everyday life.
Participants will learn about robotics principles, programming and machine learning. After achieving a certain level of technical proficiency, the participants will split into teams for an Amazing Race where they will engage in fun activities such as seek-and-destroy, seek-and-rescue, and/or autonomous navigation missions.
Finally, the participants will put their learnt knowledge to the test and compete against one another in solving real-life scenario-based problems in the team competition. General public can watch parts of the competition on the project's Facebook live.
Register here. Find out more on their website and follow them on Facebook and Instagram!
BT Digital 2021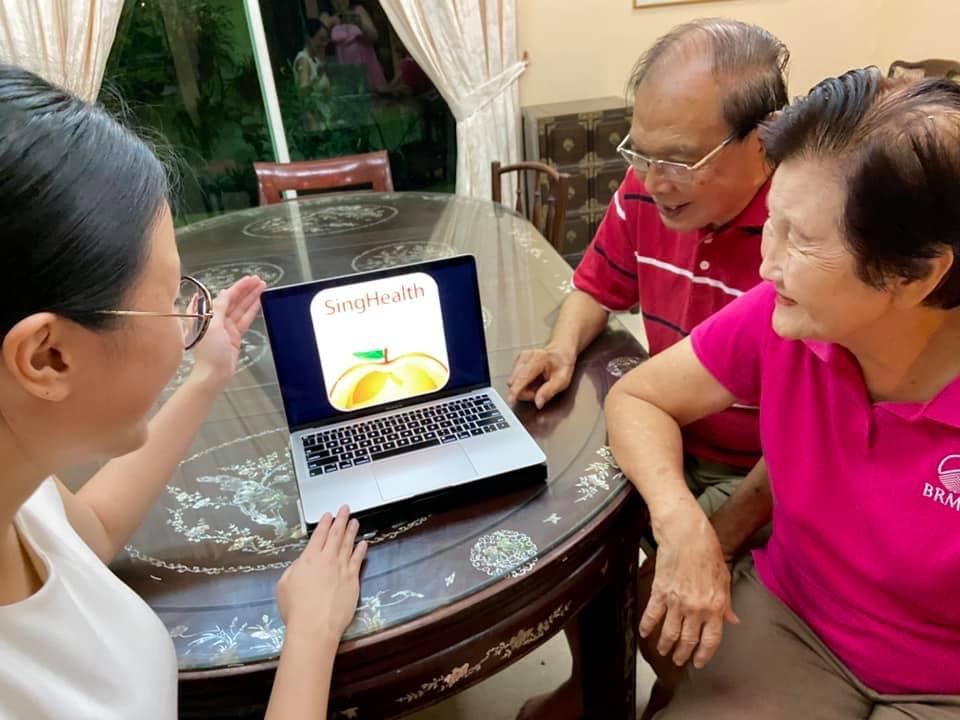 BT Digital 2021 focuses on promoting digital wellness and improving digital literacy for seniors. It is designed to equip seniors with the necessary digital skills to lead a more engaging lifestyle. Seniors get to learn skills such as how to manage their medical appointments online, order their repeat medications, use the Library app for newspaper reading, borrow e-books, use the OneService App to report municipal issues, use Zoom to connect with their family and friends and learn how to stay safe from online scams. The sessions are conducted via webinars, hybrid workshops at eldercare centres, or during one-to-one home visits with the help of Silver Infocomm Wellness Ambassadors and youth volunteers. Additionally, BT Digital 2021 includes Reminiscence Art Therapy which helps to support the seniors' mental well-being.
Kind Citizen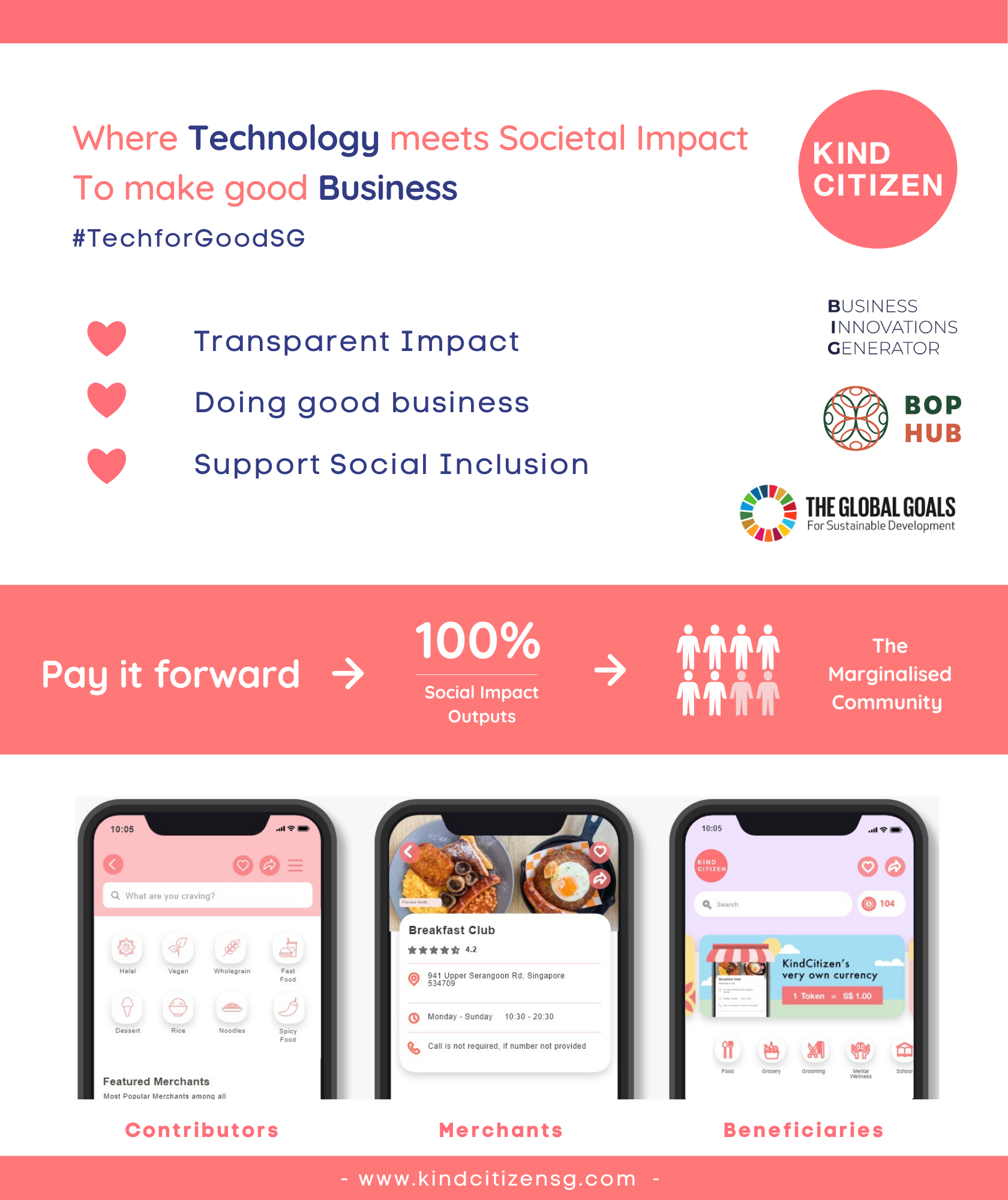 Kind Citizen is a social impact marketplace which allows everyone to contribute meals and essential services to the underprivileged beneficiaries, complementing community engagement campaigns.
The online platform allows merchants to list their products or services available for individual and business contributors to pay-it-forward to another. The beneficiaries can then redeem the items needed once they have been authorised by their respective organisations. Using this social impact marketplace, anyone and everyone can demonstrate kindness to the invisible struggles of others.
Learn more and contribute at https://linktr.ee/wearekind or contact info@kindcitizensg.com
Podcast for Women in Tech and Science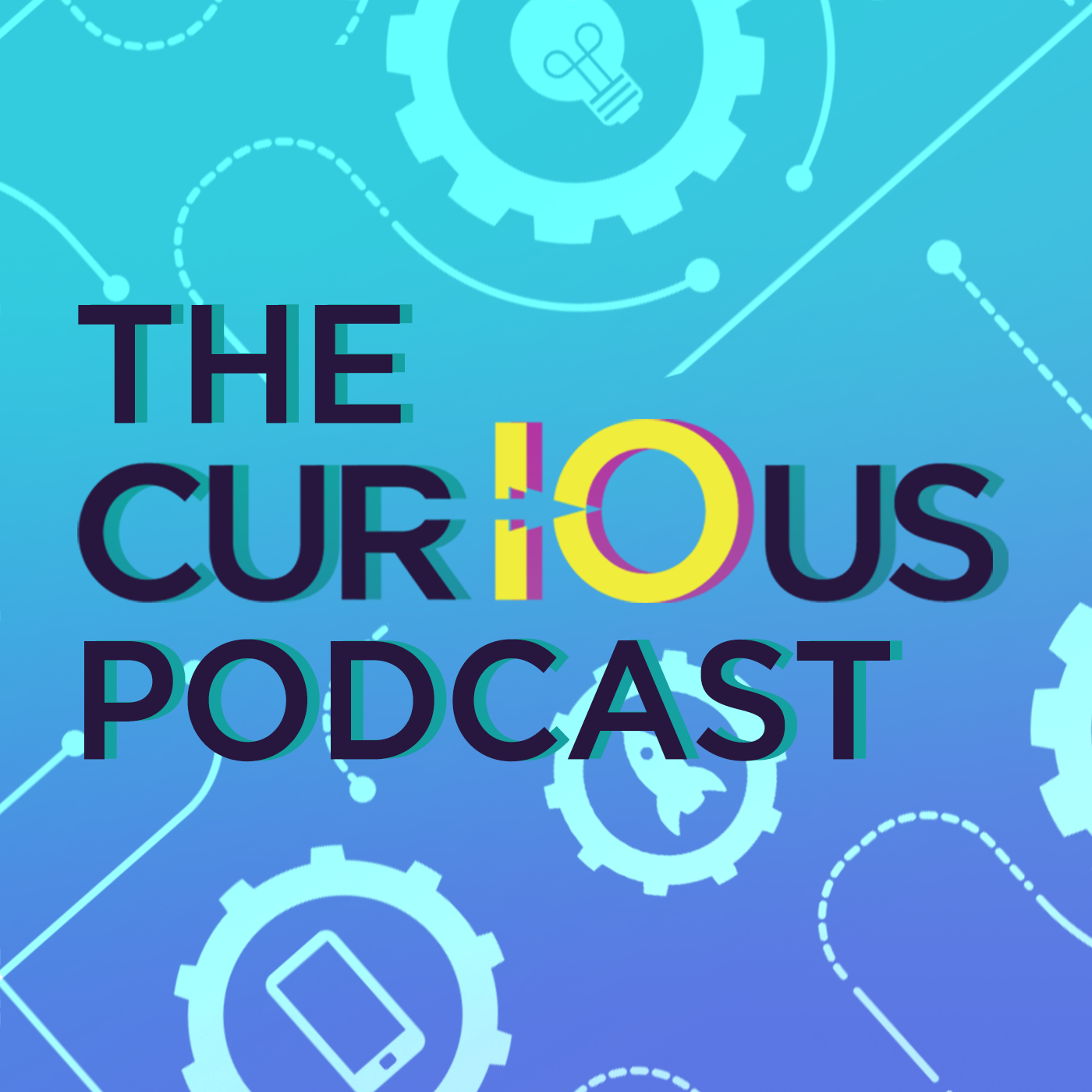 Podcast for WITS wants to celebrate the many outstanding Women in Technology and Science in Singapore whose research, inventions, and innovations have contributed to the economy and industry.
Through the Curious Podcast, the project team will partner organisations such as SGinnovate, Singapore Computer Society, A*Star, Singapore Science Centre and universities to identify candidates for the podcast; generate greater awareness and recognition of WiTS and their contributions and achievements to the society and industry; as well as highlight the opportunities and career possibilities for young girls in STEM.
Listen to the podcasts on https://thecuriouspodcast.asia/
SSTL Space Coding Course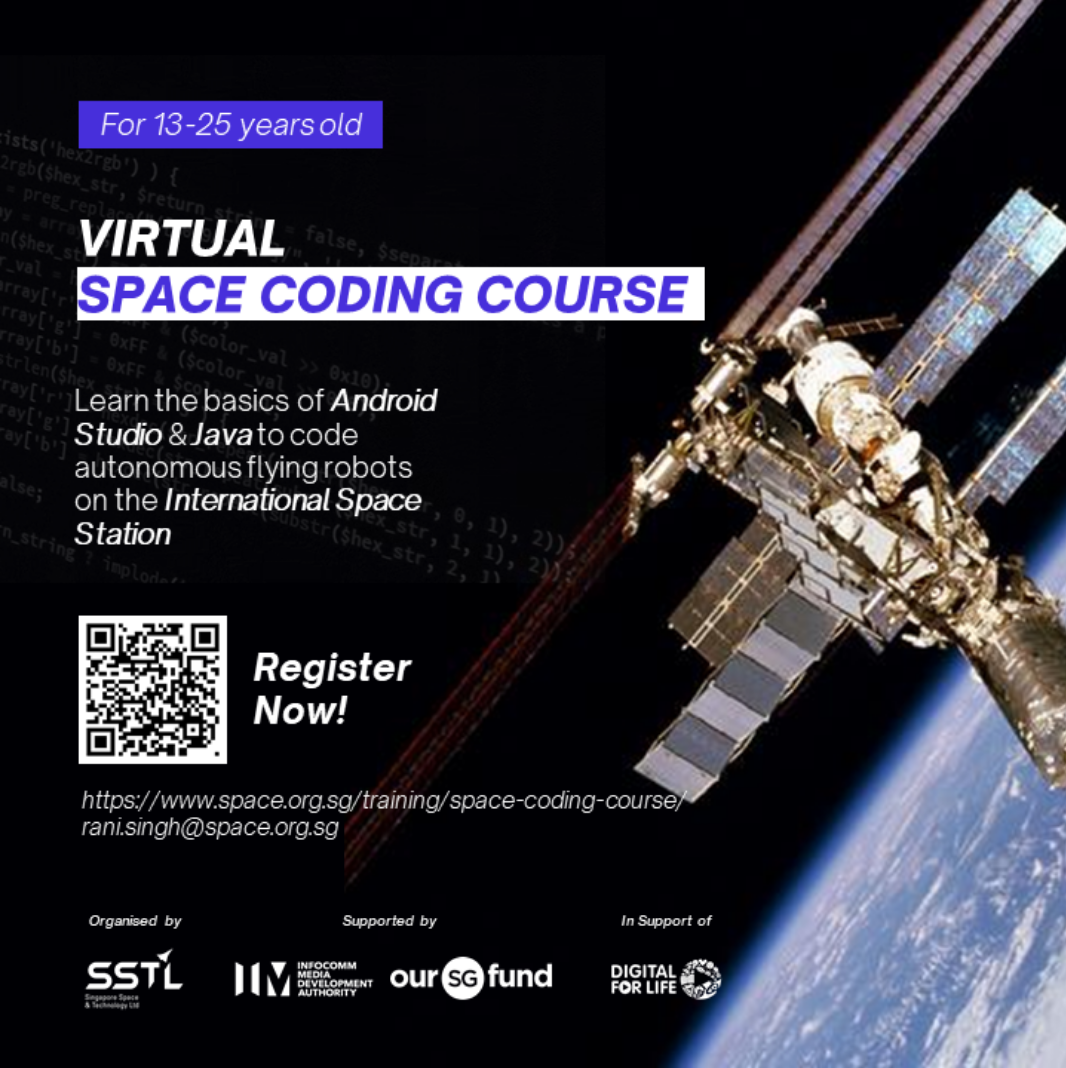 Singapore Space and Technology Ltd is organising a 5-day virtual course to enthuse and teach students from different socioeconomic backgrounds the basics of Java and programming autonomous free-flying robots onboard a space station.
This course gives students an insight into space robotics and programming, how coding can improve space missions, and the importance of coding with minimal/zero-error as it affects life-threatening missions. Promising students can then represent Singapore in future KIBO Robot Programming Challenges, a competition which challenges students to design codes to program autonomous free-flying robots on the International Space Station.
Find out more or to register on their website and follow them on Facebook!
Scram Off Scams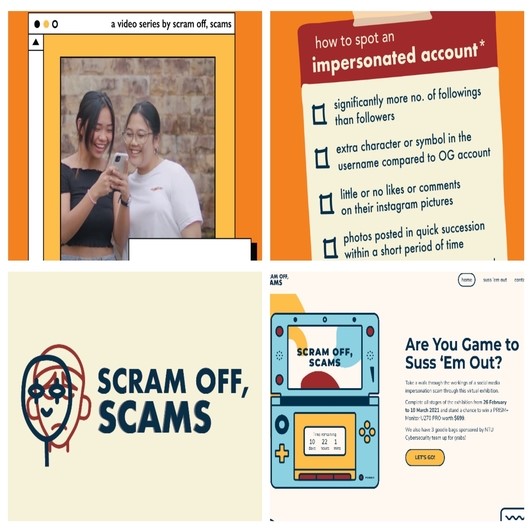 There is a rising trend of younger people being scammed online, hence Scram Off, Scams! aims to stem the spread of social media impersonation scams so that a safer social media space can be created for youths.
Scram Off, Scams wants to build a community to create awareness, tackle complacency and create community activation to encourage active reporting of scams through a 10-week campaign on Instagram and Telegram for members to share relevant content/experiences through weekly contests; 3 continuous short dramas shot through the point of view of a scam victim; and an online scavenger hunt that will give the audience a walkthrough on a typical scam journey.
To find out more, follow them on Facebook, Instagram, Telegram or on their website!
Lighthouse Program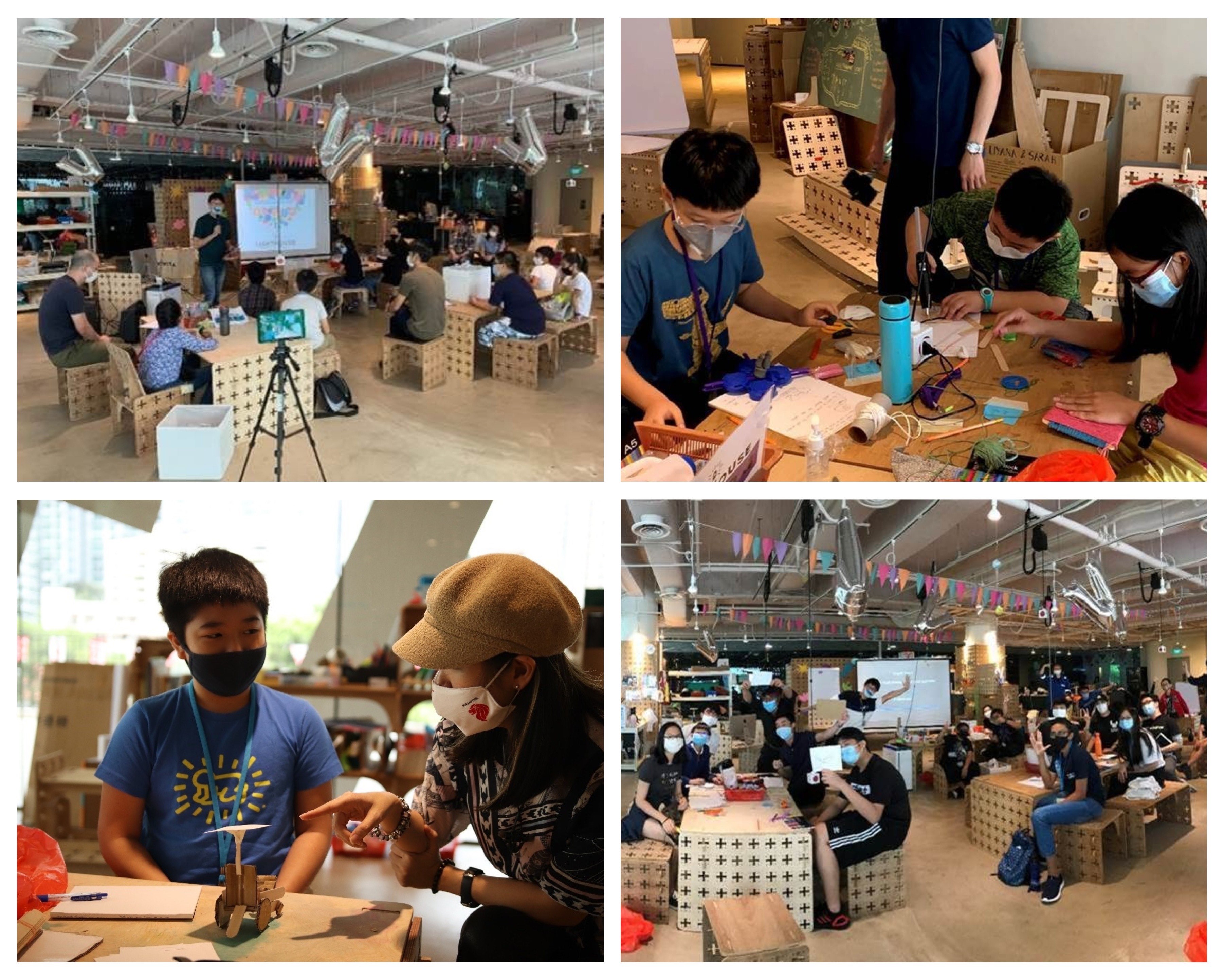 Vivita Singapore wants to empower children with digital literacy and making skills to create the future by providing them with an environment and access to proper guidance from industry professionals in order to inspire them, help them ideate and mentor them to co-create solutions.
In the first part of the programme, participants will receive new inspiration from forerunners and change-makers; work with other students across Singapore to brush up their ideas in facilitated ideation workshops.
Participants who are committed and keen to develop their ideas can participate in second part of the program, where they will make and co-create with the support of industry professionals and mentors, and showcase their prototypes to the community.
Find out more on their website; or follow them on Facebook, Instagram, Twitter and Youtube for updates!
Mobile Digital Clinic for Pioneers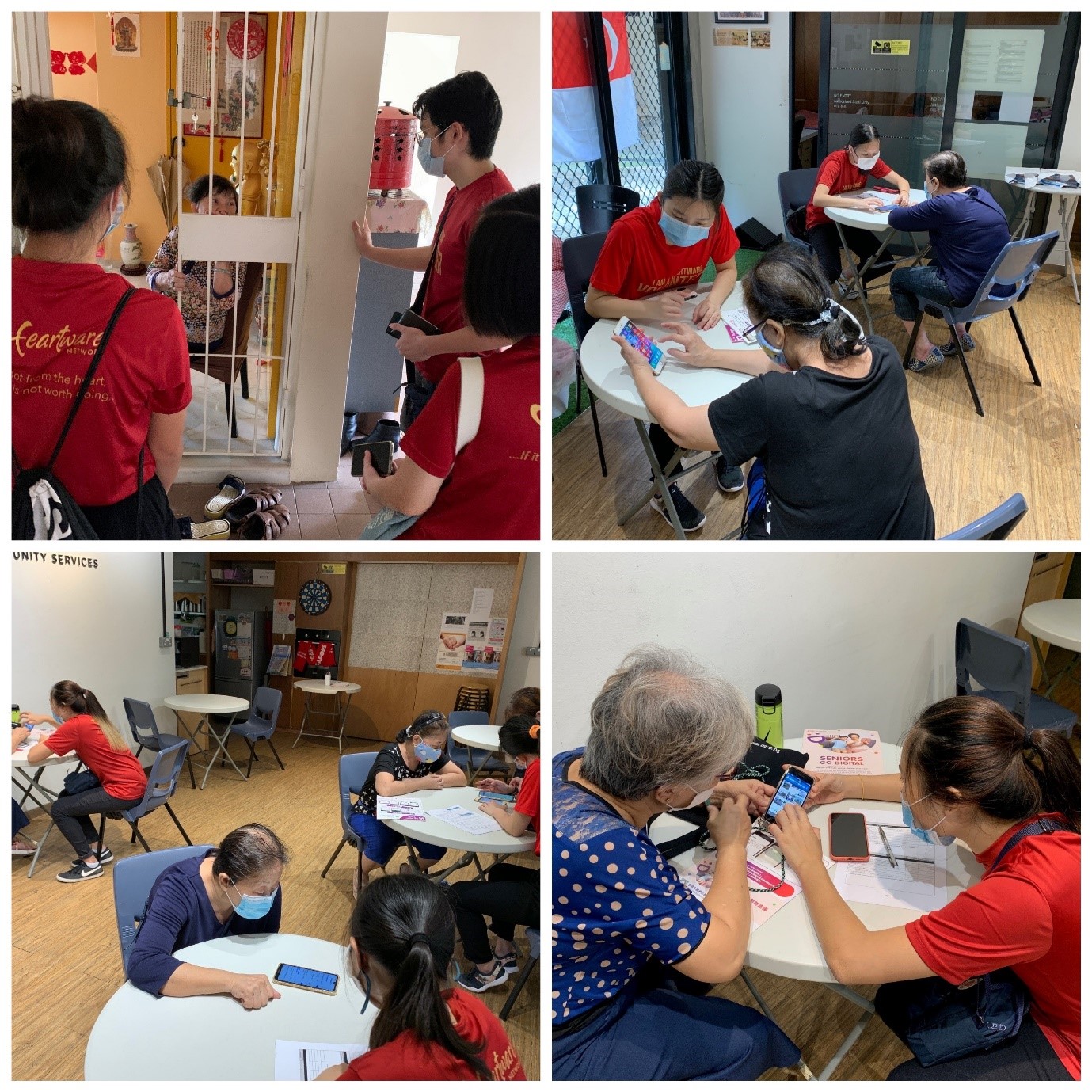 Mobile Digital Clinic for Pioneers is a series of lessons and activities to educate, encourage, and excite 200 home-bound seniors in 4 key digital readiness areas such as Security, Communication, Transactions, and Digital Services. Organised by Heartware Network as part of the Heartware Support Our Pioneers Programme, the 100 trained youth volunteers will conduct Mobile Digital Clinics in either small group Digital Learning Circles at nearby Senior Activity Centres or while visiting the seniors at their homes.
Volunteer with them on Youthbank or find out more on their website, Facebook and Instagram!
Flag, You're It: Don't Prey Where We Play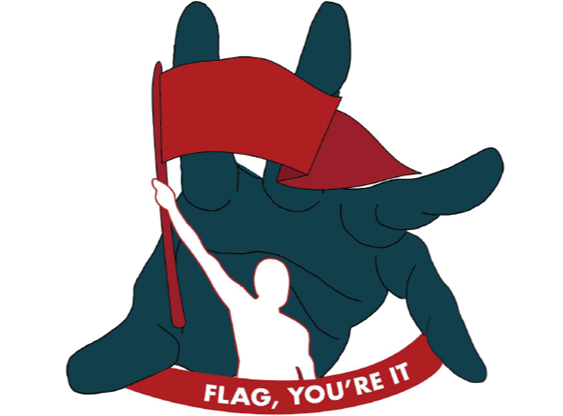 Flag, You're It: Don't Prey Where We Play is a ground up movement by a NTU student group to build a holistic ecosystem to combat online child grooming by empowering youths to be a driving force for change. They ran a campaign that encouraged youths to pledge to flag out uncomfortable or predatory online conversations on Instagram and Facebook, gathered key opinion leaders, secondary school students, micro-influencers and community partners to pledge to their movement and shared key social posts with their network. This movement created awareness and built a supportive community for victims to speak up. As part of the campaign, the student group also held an experiential exhibition "45 minutes in the Preyground" to immerse visitors through three stages of online child grooming so as to increase awareness of the susceptibility of the young falling prey to online child grooming.
Pledge on their website and follow them on Facebook and Instagram!
U Live Symposium 2019 – Popular Tech Workshops for Active Agers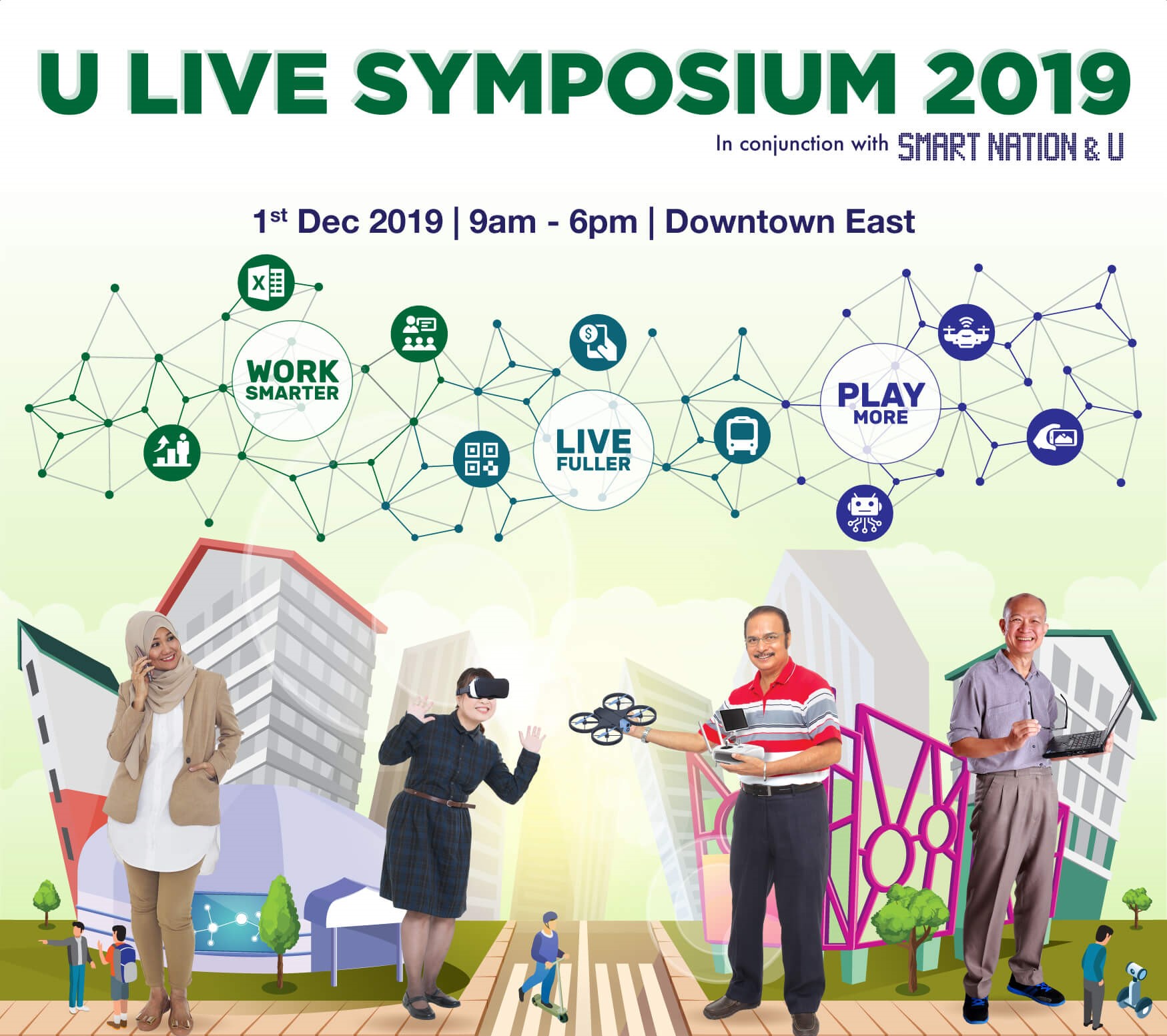 The U Live Symposium 2019 is for active-agers aged 50 years and above to learn how to work smarter, live fuller, and play more by reaping the benefits of technology. Participants will be able to engage in experiential hands-on learning and learn how they can utilize technology easily in their daily lives through a series of tech workshops, talks, showcases and demos. A group of U Live Cyber Guides who are trained on government and popular mobile apps, will be available on-site to assist other participants on the day itself.
Join us on 1 December 2019 at Downtown East and register on this website!
Tech@Shopee: Coding for Youths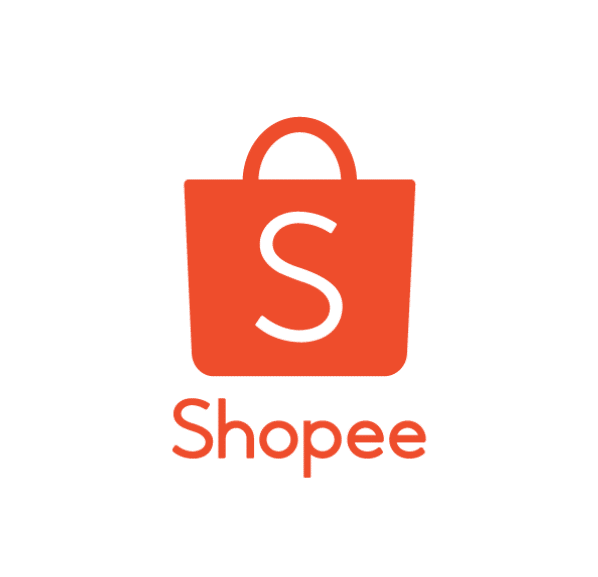 Shopee is committed to promoting digital well-being and inclusion by providing opportunities for youths from low-income families who are keen on learning coding. During the 3-hour workshop, volunteer trainers will inspire and teach youths to code and understand the importance of coding. The workshop will begin with an introduction to Coding and Python, followed by hands-on acitivities with Python and creating a Chatbot. These workshops are customized to incorporate practical elements whereby participants have the opportunity to create and build real-world solutions to real problems.
Tiny Thinkers I & II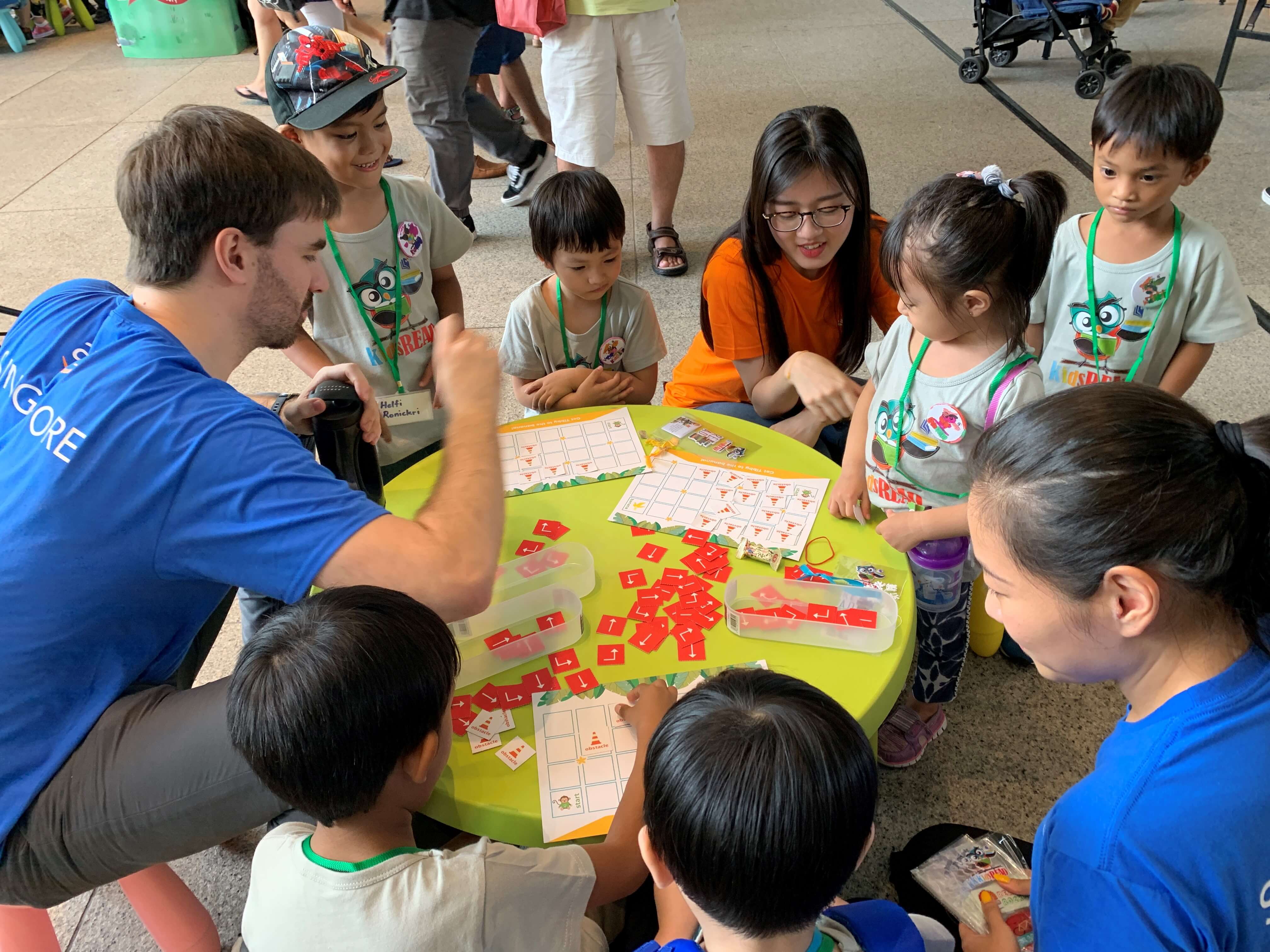 Tiny Thinkers I was started by a group of NTU students to introduce computational thinking to preschool children and their parents through specially-curated games on a dedicated website, hands-on workshops to guide parents and a Starter Kit filled with materials to kickstart the preschool children's journey in computational thinking.
Expanding from the Tiny Thinkers I project, Unfair advantage started Tiny Thinkers II to include more acitivities in the Junior Computational Thinking kit to kick-start preschool children's journey in computational thinking, conduct workshops to reach out to pre-schoolers from low-income families, and keep the website updated with more activities and resources for anyone to use.
Try out their resources and follow their activities on Facebook!
AppiLearn Mobile App and Website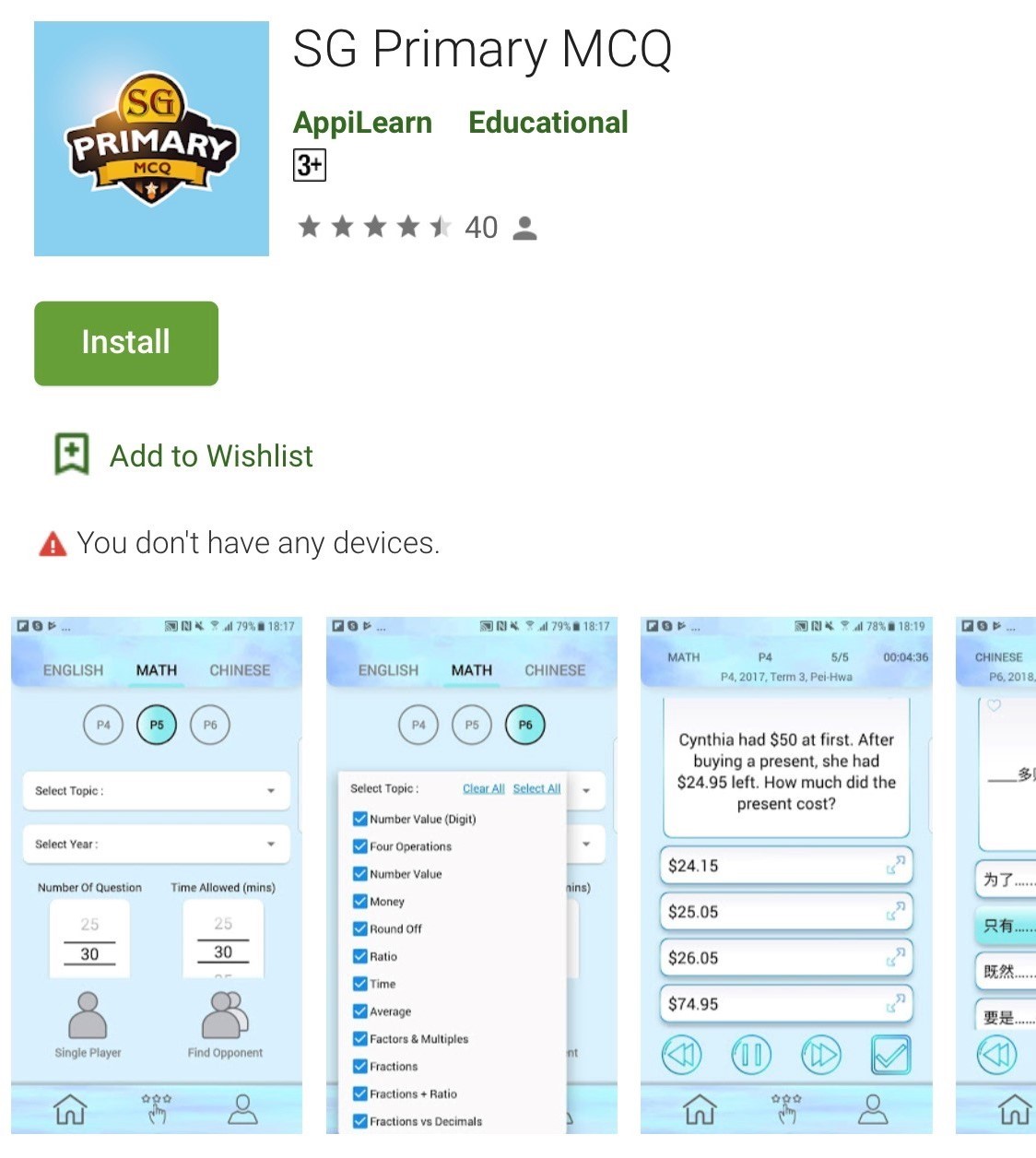 SG Primary MCQ is a mobile application (app) and mobile-enabled website where learners from any background can have free and unlimited access to quality education resources and support. These resources and support are contributed by volunteers with a passion to share their knowledge and contribute to the society.'
This platform will enable teachers and volunteer tutors to create and share digital teaching contents which can be accessible by an unlimited number of students anytime and anywhere, allowing learners to learn at their own pace indefinitely.
Download the Android version here
Hatch Immersive and Workshops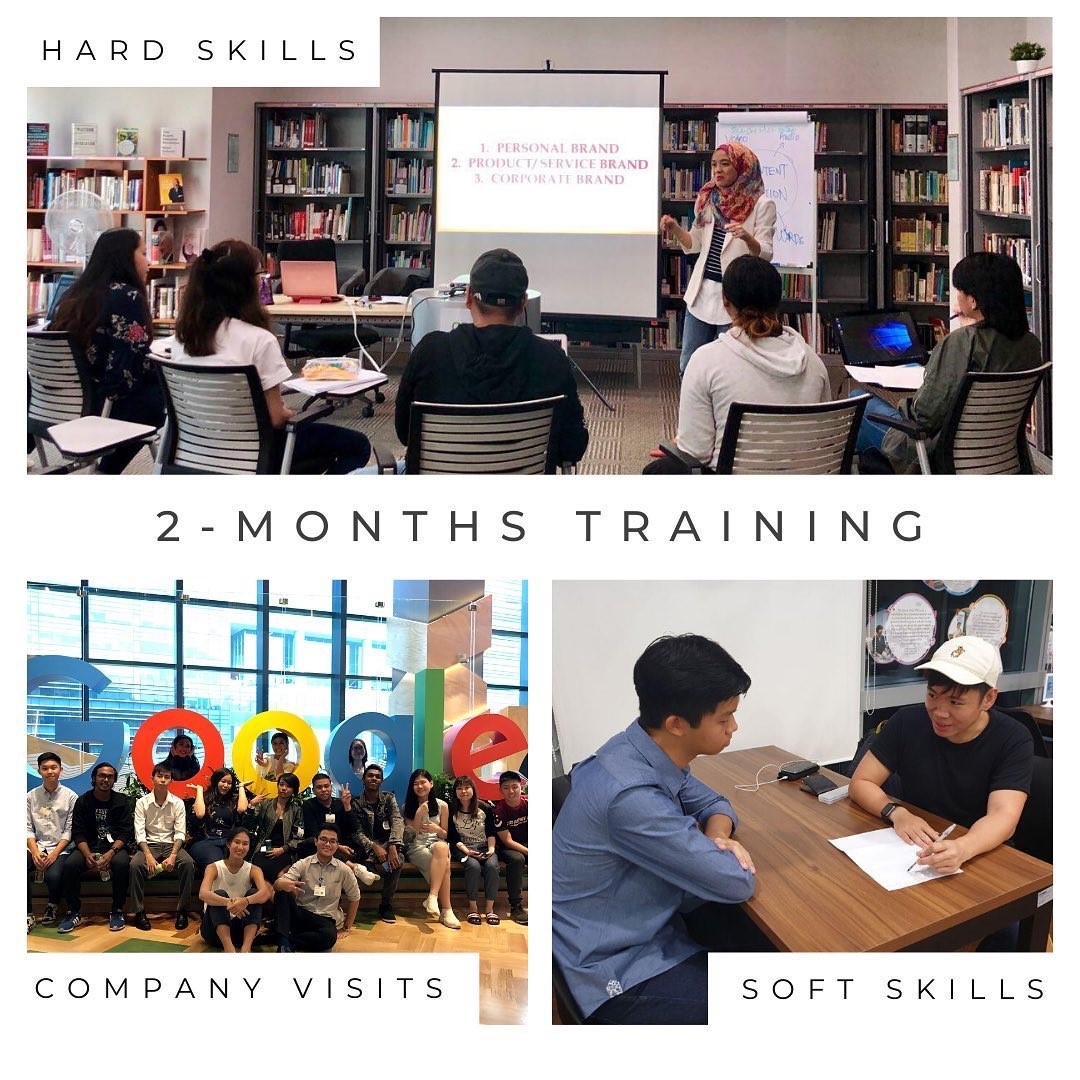 Hatch Immersive targets youths from low-income, dropout, and at-risk backgrounds and brings them through a 1-month comprehensive training that comprise technical skills in either UI,UX Design or Digital Marketing, workplace skills, and industry exposure. These provides them with the essential skills to enter the workforce and become independent. Upon successful completion of the training, youths will be given a 3-month internship opportunity in one of the partner companies. At the end of the internship, the youths would either convert to full-time or pursue further education.
These Hatch Workshops target secondary school students who may not be excelling academically or are identified by the teachers to be "long-term absent", to provide students with exposure to skills-based jobs and to build their self-confidence to secure these jobs.
Engineering Good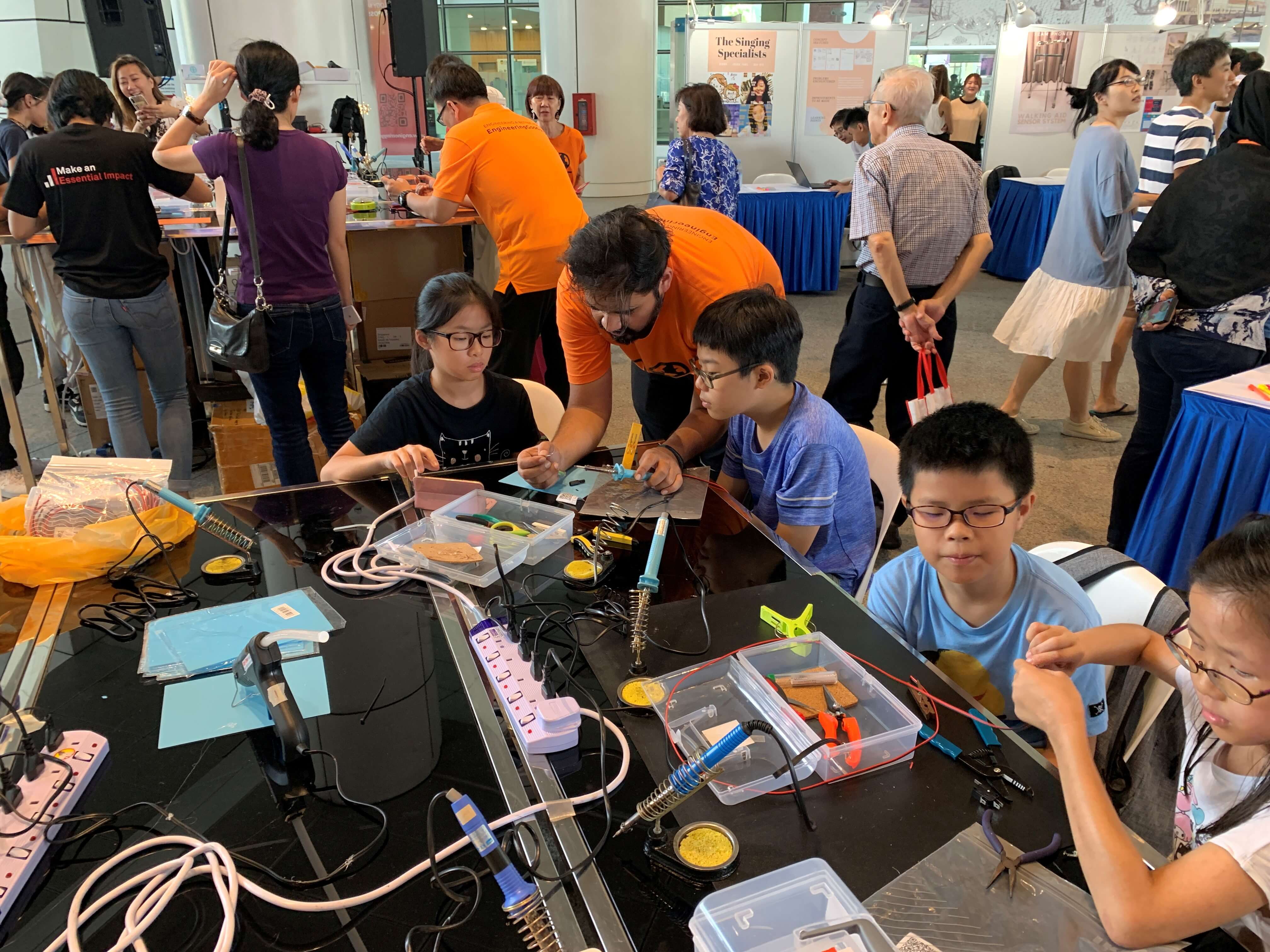 Engineering Good conducted a Tech for Good Festival on 2nd November 2019 which celebrated how technology can help make life better for people with disabilities. Participants took part in workshops by Engineering Good and our partners, and learnt how they could help. Additionally, they also viewed a showcase of inventions by the Tech For Good contestants and partners.
Additionally, Engineering Group is also conducting "We Hack Care!" workshops where participants will learn how to DIY low-cost assistive devices through simple engineering and donate the modified devices to VWOs and Special education schools (SPEDs) to support them in their training and daily activities.
Support them on their website!