Test the speed of your mobile connection and get a Ya Kun Teh or Kopi!
About IMconnected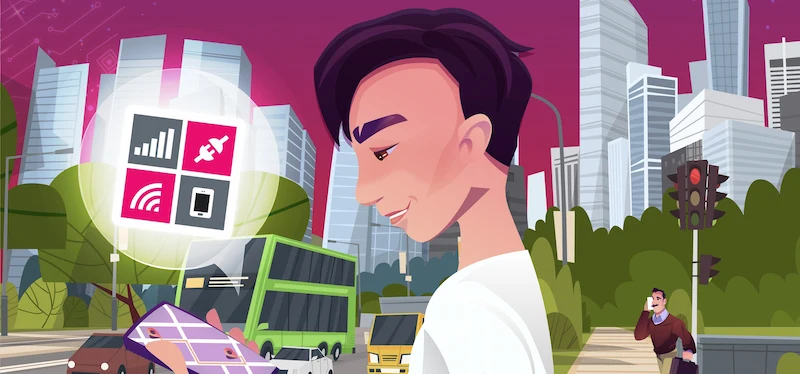 IMconnected is a mobile application that improves mobile broadband user experience by collecting and assessing anonymised mobile phone data points such as broadband speed, latency and coverage on mobile cellular networks including 3G and 4G, as well as on Wi-Fi networks. These data points allow IMDA to evaluate mobile broadband performance and take measures to improve digital connectivity.
IMconnected is available for both iOS and Android users. Interested participants can download the mobile application by searching for "IMconnected" on both the Apple App Store and the Google Play Store, or by clicking on the buttons below.
Safeguarding consumer data
IMconnected, designed to run in the background of a mobile phone, collects and sends the following types of information to IMDA.
Data Performance

1. Session throughput

2. Latency

3. Packet loss per session

4. Data volume utilised
Voice Performance

1. Experienced network coverage
Device Identifiers

1. Manufacturer and model

2. Operating System

3. Location information
All data collected are fully anonymised and protected. Users are encouraged to turn on the location feature of their mobile phones for improved accuracy of the data collected.
IMconnected does not collect information about your application usage. It also does not collect data such as:
Mobile number, IMEI and IMSI
Name, age, NRIC numbers and address
Photographs or video images from your phone
Personal email address or any online profiles
For more information, learn more about how the IMconnected app improves quality of mobile experience for consumers (413.83KB) or the IMconnected privacy policy.
IMDA welcomes any feedback that could help improve the application. If you wish to share your feedback, please e-mail us at info@imda.gov.sg.
IMconnected results
IMDA would like to thank everyone who has used IMconnected. Your participation has contributed to improving digital connectivity and mobile service experience in Singapore. As more users participate in IMconnected, the additional data points will lead to better accuracy in the evaluation.
IMconnected results are published twice a year. This information will help consumers make informed choices in their mobile broadband plans and encourage operators to improve consumer usage experience.