Close to 1,000 Singaporeans recently received study awards in the field of infocomm media and design. These will equip them with skills to thrive in the blossoming sectors.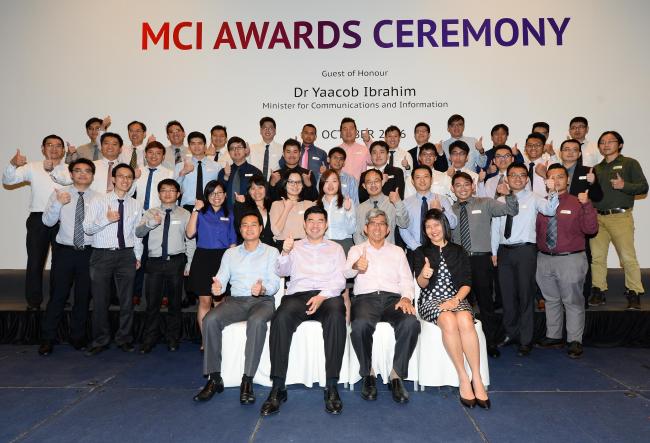 Front row: Mr Tan Kiat How, Deputy Secretary (Cyber & Technology) MCI; Mr Gabriel Lim, Chief Executive, IMDA; Minister Yaacob; and Ms Tan Li San, Deputy Secretary (Industry & Information, MCI).

By Annabelle Liang
First-year Temasek Polytechnic student Dian Maisara (pictured second from right below) picked up programming by chance. In secondary school, the debater was surrounded by friends in the Infocomm Club who had completed a course in Java.
"I looked at their codes and wondered what each line meant. So I went online and picked it up," the 17-year-old said.
The knowledge was infectious. Soon, she was creating an application to tabulate debaters' scores. Although the application remains a work-in-progress, Dian uncovered a passion for technology.
She is currently pursuing a Diploma in Digital Forensics and hopes to become an investigator with the Singapore Police Force.
"Hopefully, I will be able to create a technology to help the police have an edge over hackers," she said.
Dian is one of 10 recipients of the Infocomm Polytechnic (iPoly) Scholarship, awarded by the Infocomm Media Development Authority (IMDA).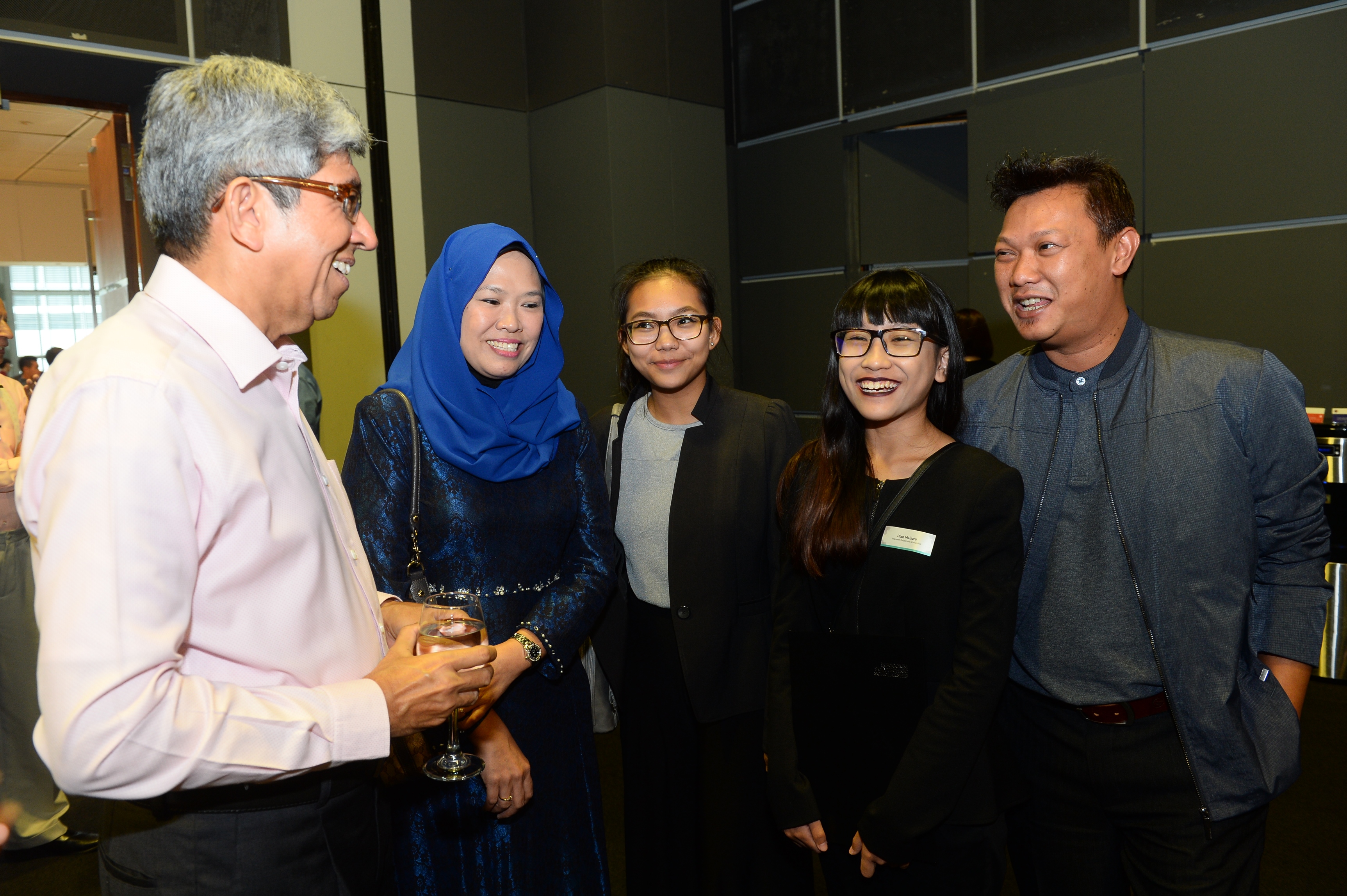 Close to 1,000 awards were recently presented by the Ministry of Communications and Information to Singaporeans with an interest in infocomm media (ICM) and design.
Minister for Communications and Information Dr Yaacob Ibrahim gave out the awards on 13 Oct, during a ceremony held at the Suntec Singapore Convention & Exhibition Centre.
"Rapid changes in technology are disrupting how businesses work and how we live our lives," Dr Yaacob said. "These same technologies are also bringing about new opportunities – new jobs have been created, and there is great demand for new skills."
In the next five years, there will be a need to fill 30,000 jobs in the infocomm sector alone, Dr Yaacob explained.
Nearly 800 students from post-secondary education institutions formed the bulk of recipients. They are part of the pioneer intake of IMDA's Industry Preparation for Pre-Graduates (iPREP) programme, which was launched this April.
Under the iPREP programme, students are encouraged to improve their employability through industry certifications, mentoring sessions, networking and local or overseas infocomm-related internships.
Second-year Temasek Polytechnic student Teh Yi Kuang, 17, has his sights set on courses by SAS and Pivotal. He is pursuing a Diploma in Big Data Management & Governance.
"The programme will allow me to gain industry exposure. It takes me closer to my dream of becoming a big data scientist and providing companies with valuable insights," he said.
Minister Yaacob also presented 33 IMDA scholarships that support those enrolled in various media or information and communications technology courses at polytechnics and universities – namely, the iPoly Scholarship, Media Education Scholarship (MES) and National Infocomm Scholarship. The National Cybersecurity Postgraduate Scholarship is jointly awarded by IMDA and the National Research Foundation.
One of the recipients of MES is Benjamin Low. He is the first MES scholar enrolled in the Bachelor of Arts in Filmmaking (Honours) course at the Lasalle College of the Arts. He directed and wrote the script for short film Cake that won Gold in Cinematography and Silver in Directing at the 2013 Crowbar Awards.
The film was also screened at the 66th Cannes Film Festival. IMDA funded the film and supported the trip to Cannes. "I hope to continue making films in any shape and form. They should be impactful and relatable," Benjamin said.
A total of 140 SkillsFuture Study Awards were also given out at the ceremony, to help those in the ICM and design sectors improve their skills.
Recipient Low Hwee Ling, 42 is no newbie to the media industry. In her eight years of experience leading post-production teams, she has worked with local filmmakers Royston Tan and Eric Khoo.
During a previous role as executive producer for a modeling reality TV series, she saw how social media facilitated dialogue among fans. This pushed her to opt for a change of course. She is currently pursuing an MSc in Information Studies at Nanyang Technological University, and works as a digital analyst at Attribute Data.
"I haven't lost my passion for films. A new interest in web analytics grew out of it, and I followed that path," she said. "I hope there will be more opportunities for people hoping to make a switch."