Cultivating the technopreneurs of tomorrow
Two coding schools set up technology campuses in Singapore to equip individuals with the right skills for the fast-moving digital economy.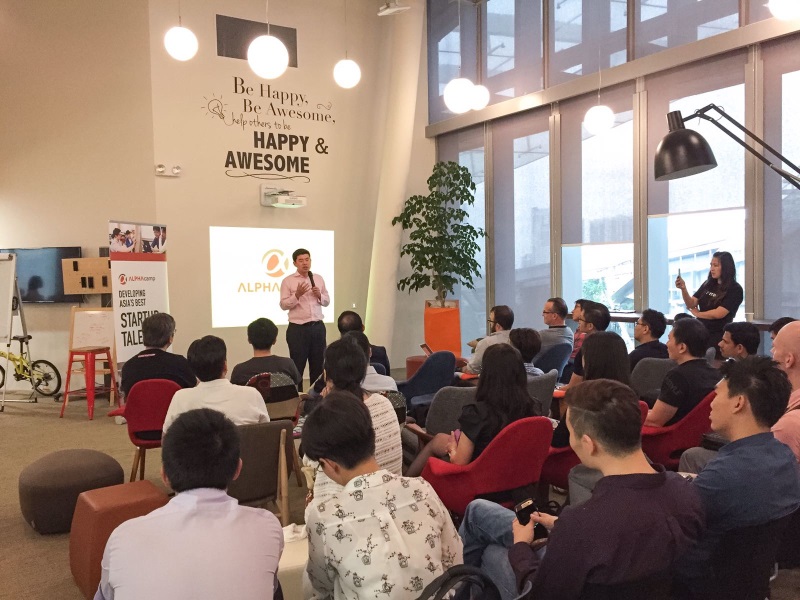 IMDA CEO, Gabriel Lim, speaking at the opening of Alpha Camp.
By Fahima Mathé
Byte Academy and Alpha Camp are the latest additions to the number of tech schools in Singapore, supporting the country's Smart Nation initiative to create high-tech jobs and train engineering talents for the rapidly evolving tech sector.
Speaking at the opening ceremony of Byte Academy, Dr Janil Puthucheary, Minister of State for the Ministry of Communications and Information and Ministry of Education (pictured below), believes that Byte Academy could add interest and aptitude to the tech industry here. "[There is a] gap between the skills we have on the ground, and talent and manpower pool, and the opportunities presented by businesses and revolutions like fintech," he said. "We have to be prepared to take risks to ride this wave of opportunity."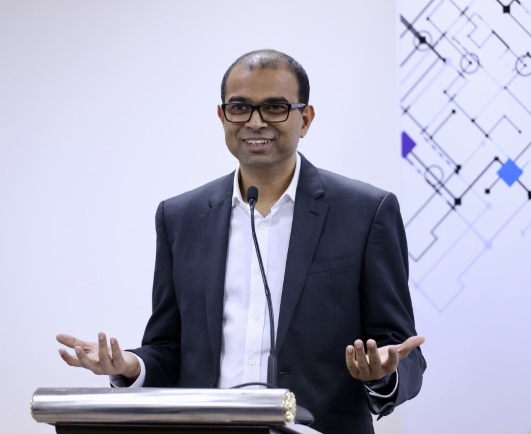 New York-based Byte Academy considers Singapore the best place to launch its first international campus outside of the United States. The school's programme will enable the bridging of fintech communities in New York, California's Silicon Valley and Singapore, allowing for long-term strategic growth and knowledge-sharing of some the world's top fintech companies.
Byte Academy will also be on board the Infocomm Media Development Authority's (IMDA) Tech Immersion and Placement Programme, which aims to convert non-ICT professionals into industry-ready ICT professionals. "With more programmes offered, particularly in Fintech and Data Science, Singapore's manpower can enrich themselves with a strong variety of market relevant courses, enabling us to be in a better position to seize opportunities in these growing sectors," said Gabriel Lim, Chief Executive Officer of IMDA.
Industry front-runners from financial services, fintech and start-up sectors have been encouraging industry-specific partnerships and education programmes such as those provided by Byte Academy. This drive has prompted Standard Chartered Bank, IBM Singapore, Microsoft, INSEAD and Thomson Reuters to join forces with Byte Academy to form the FinTech Skills Charter. This pro-bono advisory committee will help steer and set best-in-class standards for fintech development in Singapore, and configure policies and procedures for Singapore's fintech community.
"We look forward to working closely with FinTech Skills Charter members to enhance fintech development, innovation and explore possible cross-border collaboration activities within the fintech industry," said Nobuhiro Ito, Microsoft Singapore's Director of Developer Experience and Evangelism.
According to Shameek Kundu, Standard Chartered Bank's Global Head of Data, Architecture and Innovation, being a member of the FinTech Skills Charter shows the bank's "ongoing commitment to developing the talent pool, which will support the growth of a vibrant fintech sector".
Annie Choy, IBM Singapore's Managing Director, added, "We are working extensively with government, industries and academia to co-develop solutions based on enterprise blockchain, cyber-security, and cognitive computing technologies to help serve the fintech sector and further develop Singapore as a smart financial centre."
Byte Academy's 12-week full-time courses and individual 8-week short courses will focus on fintech and software development. According to Byte Academy, the full-time courses will provide the fundamentals for students to work on real, industry-specific problems and allow for interaction with industry partners to prepare them for direct placement and job matching upon graduation.
The most attractive draw is its job placement programme, which offers guaranteed positions to its full-time course graduates through key partners in major technology and banking companies. The best part? Graduates who do not get a job within six months of course completion will get a full refund of their course fees.
Another coding school settling in Singapore is one of Asia's top technology and start-up school, Alpha Camp. The institution already has campuses in Hong Kong and Taiwan, and now wants to train Singaporeans through its intensive programmes and boot camps. "Alpha Camp's intensive programmes are designed to train individuals, with or without prior knowledge and skills, to be technology fluent and well connected within the industry," said its founder Bernard Chan, who also worked as regional director at technology giant Yahoo.
"The programmes are specifically for individuals with collaborative and solution-oriented innovative minds, and who are able to use technology effectively to solve problems or come up with better solutions for people."
Khoong Hock Yun, Assistant Chief Executive (Development) of IMDA, believes that Alpha Camp's presence will add to Singapore's efforts to continue building tech talent, especially to meet immediate job needs. "With their help, the variety of courses available are strengthened, providing individuals interested in a career in tech with more options to pick up skills that would enable them to get into a tech job."
To further develop local technology talent and meet the demand for IT, fintech, and data science professionals, the IMDA is providing course fee subsidies of up to 70% to applicants of both schools under the Tech Immersion and Placement Programme. Graduates of the programme will be placed in technology roles after undergoing training by industry practitioners.
The programme is open to Singaporeans and target groups, such as mid-career switchers without ICT backgrounds interested in a career in technology; current ICT professionals preparing for new technology positions; and fresh graduates with a passion to join or set up a technology start-up.