Training to outsmart cyber villains
Companies like ST Electronics are boosting skilled manpower in the area of cybersecurity through the Cyber Security Associates and Technologists programme.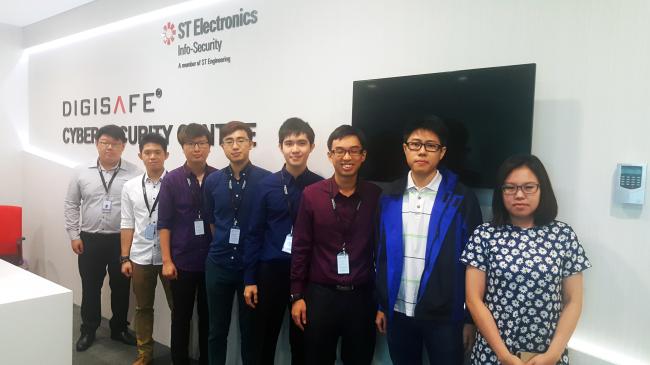 Trainees at ST Electronics go through a rigorous programme to equip them against potential cyber attacks. (Photo credit: ST Electronics)
By Annabelle Liang
Knowing how to terminate cyber threats in theory is far from enough. That is why trainees at ST Electronics respond to multiple simulations of these attacks.
As part of a high-fidelity defence training exercise, they are exposed to a range of scenarios at the ST Electronics Cyber Security Centre. Trainees also improve their skills by being exposed to a real-time security operations environment.
"The curriculum addresses current challenges and emphasises on providing a comprehensive range of operational-centric cybersecurity practical trainings, which are designed to bridge (the) operational skills gap faced by the industry," said Goh Eng Choon, General Manager, ST Electronics.
"Implementation is reviewed regularly to ensure that our trainees stay ahead of market changes and requirements," Eng Choon added.
ST Electronics is one of the training partners in the Cyber Security Associates and Technologists (CSAT) programme, a joint initiative by the Cyber Security Agency of Singapore and the Infocomm Media Development Authority.
The CSAT programme aims to train and improve the skills of fresh information and communications technology (ICT) talent and mid-career professionals. Fresh graduates and professionals with fewer than three years of experience will be part of the Associates track.
Once recruited, trainees at ST Electronics go through a year of on-the-job training. This covers a range of cybersecurity roles, including network security engineer, cybersecurity application developer, threat intelligence analyst, incident response associate and forensic associate.
They also attend other formal training sessions and are evaluated for competency. After a year, at least half of the candidates are released into the industry, Eng Choon estimates.
"We encourage individuals to sign up if you have an interest in and passion for cybersecurity. We want people who have the commitment to complete the training programme and begin their cybersecurity career journey with us," he said.
ICT professionals and network engineers with more than three years of working experience join the Technologists track.
They go through three to six months of on-the-job and overseas training across roles such as network security administrator, security threat engineer and information security manager.
The Technologists track is targeted at professionals looking for a career switch, or those who wish to enhance their knowledge in cybersecurity, Eng Choon said.
At its core, the CSAT programme is "an important bridge between organisations and employees who are interested to join the cyber security industry," he added.
"This programme also allows us to reach out to the trainees directly, effectively train and impart our experiences to them in the shortest possible time, thus shortening the duration required to grow the cyber security talent pool in Singapore," Eng Choon explained.
At the opening of the inaugural Singapore International Cyber Week on Oct 10, Prime Minister Lee Hsien Loong said that cyber security was "an issue of national importance".
"The potential of ICT and digital technologies depends on how much we can trust the Internet and cyberspace: we must get cybersecurity right, to capture the benefits of a more connected world," he said.
ST Electronics trainee Tang Hoi Him said that the CSAT programme has given him great insights of the industry. He said, "I have also learned a lot from my mentor and seniors. This will help me to accelerate my learning and enhance my cybersecurity competency skill set."
---
IT professionals who are keen to explore On-the-Job Training in Cyber Security hosted by ST Electronics (Info-Security) may reach out to the company for more details at: careers_infosec@stee.stengg.com