A new chapter for Asian storytellers
Content still reigns king despite changing models, evidenced by the launch of WritersLab and major deals signed at the Asia TV Forum & Market and ScreenSingapore.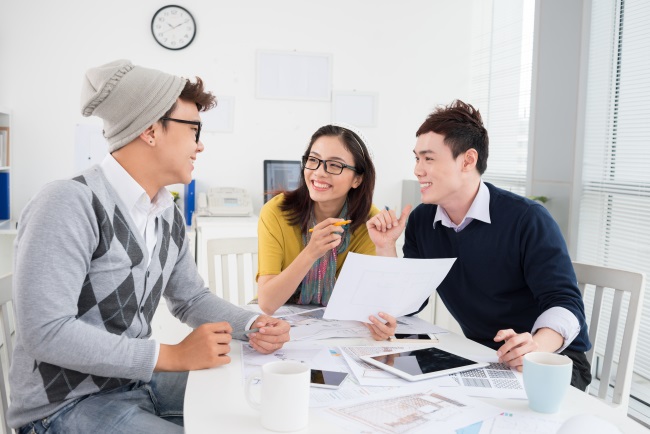 The WritersLab initiative is a 10-week programme for selected Singapore film and TV writers to nurture and develop their storytelling skills.
By Annabelle Liang and Sonia Kolesnikov-Jessop
A new initiative to push the boundaries of scriptwriting and storytelling was launched at the opening of this year's Asia TV Forum & Market (ATF) and ScreenSingapore (SS).
The WritersLab programme is aimed at developing and nurturing the skills of Singapore film and television writers, as part of the Infocomm Media Development Authority's (IMDA) Story Lab initiative.
This is the result of a collaboration between IMDA and LASALLE College of the Arts, which will also introduce a Professional Conversion Programme next year to help scriptwriters apply their skills to the fast-growing gaming sector.
Mr Chee Hong Tat, Minister of State for Communications & Information, announced the launch of WritersLab and stressed the importance of good storytelling in today's digital age in his opening remarks.
"Traditional TV and film business models have been challenged by new entrants, and digital technologies have transformed the way viewers consume content in new ways … but one thing remains constant – the need for good content," he said.
Good content took centre stage at both ATF and SS this year, which saw about 740 companies, brands and international studios showcase their works to over 5,000 worldwide visitors from 6 to 9 December. The opportunity to exchange ideas, network and seal content deals resulted in over US$244 million worth of deals and partnerships.
Singapore firms also made a strong showing of good content on the trade floor with 65 local media companies showcasing a line-up of over 700 hours of film and television titles. Some of the deals announced at the Singapore Pavilion include:
Home-grown international distributor, Silver Wolf International, signed an investment and co-production partnership with local independent producer Monstrou Studio to distribute the Salam Ramadan series — Salam Ramadan Korea and Salam Ramadan UK – an info-education programme that explores the different ways Muslims around the world celebrate Ramadan. Silver Wolf International also announced that it is working with EnMedia to launch a food channel in the first quarter of 2017, which will feature original and acquired content. It also concluded the second signing of a co-production and co-investment partnership for eight titles with Malaysia-based FiTA Studios, confirming that Silver Wolf will have exclusive worldwide distribution rights to titles including Festivals Of The World, Inside Outer Space and Antarctica: The Journey to the end of the earth.
Singapore-based BananaMana Films scored a hat trick by securing global distribution deals for its first full-length feature, Jimami Tofu, with Korean entertainment and media giant iHQ; global video-streaming platform Viki; and Encore Inflight, an in-flight content distribution company. The romantic drama about a Singaporean chef learning traditional methods of cooking Okinawan food, was shot on-site in Japan and Singapore. It received production funding from the Okinawa Film Office and a Development-Assistance grant from the IMDA. Principal photography will be completed later in December, and the film is due to be released in the first quarter of 2017.
Aurora Global Media Capital, the Singapore-based investment arm of media management company Aurora Media Holdings, closed a multi-picture development and production financing agreement with Kathy Morgan International, a Los Angeles-based global sales and marketing agency. The slate of joint projects includes Stano, a new film by John G. Avildsen, currently in pre-production; financing on OmniLab Media's remake of Storm Boy, directed by Shawn Seet; and an East-West creature feature titled Mogwai, now in active development.
Aurora Media Holdings also inked a deal to seed BeachTV, a newly setup lifestyle channel, which will focus on a variety of beach-related content from beach sports and fashion, to festivals and tourism. The new Singapore-based online platform will focus on content investment and acquisition, and spearhead a distribution plan for channel sales. It has signed a strategic partnership with Jakarta-based events producer, Goshen Media Group, to increase its reach in Indonesia.
Separately, on the side lines of the ATF, Singapore-based virtual reality (VR) specialist BeVRR launched Dining Stars, an eight-episode lifestyle show filmed entirely in a VR format. The innovative show allows viewers to dine virtually with model Rebecca Tan and her celebrity guests.
Mediacorp also announced on 7 Dec that it had signed a deal with Netflix that will make more than 20 Singapore-made Chinese TV series, such as The Little Nyonya and The Golden Path, accessible to Netflix subscribers globally from next year.
This year's ATF also featured a special VR showcase, a C-Level summit, "Managing the Business of Disruptors", as well as the inaugural ATF Formats Pitch. The initiative saw regional content producers pitch their new and original, non-scripted entertainment formats to a panel of judges. Local company Xtreme Media emerged victorious, receiving a prize worth $20,000 from all3media International. The prize included a cash reward, as well as a consultancy package to develop Xtreme Media's winning format for Asian markets and beyond.