Finding a cure in technology
The healthcare sector is taking its challenges head on with a big dose of digital. IMpact breaks down the five trends in the space to look out for.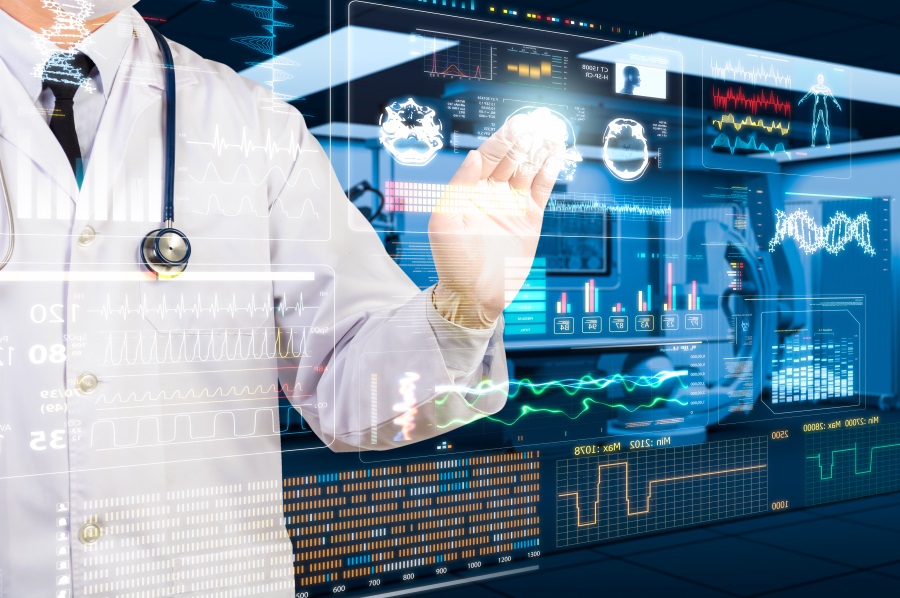 From VR to data sets, the healthcare sector is turning to technology to keep up with demands in today's digital age.
By Francis Kan
Faced with rising costs and a strain on resources, more healthcare organisations are banking on technology to help overcome its challenges.
In Singapore, long queues at the A&E departments of public hospitals here are common as the system operates at near full capacity. The average bed occupancy at public hospitals was around 85 per cent last year, and hovered at 88 per cent in March this year, a Ministry of Health spokesman told the Straits Times earlier this year.
A rapidly greying population is also expected to add further pressure. According to a paper by the Government's National Population and Talent Division, it is estimated that by 2030, there will be 900,000 elderly citizens in Singapore, representing 20 per cent of the entire population.
Against this backdrop, the industry has turned to digital solutions – whether its using data analytics to gather patient insights or augmented reality (AR) to assist the visually impaired – to help lower healthcare costs, make processes more efficient and treatments more targeted.
Here are five digital trends that are transforming the healthcare sector.
1. Augmenting vision
Considered by many as a tool used in entertainment and advertising, AR has been making its mark on other industries, including healthcare.
AR features most prominently in assistive technologies that help people with varying degrees of impaired vision. It does this by providing them with additional computer-generated sensory information to better navigate their surroundings. More basic applications involve using AR technology in portable digital magnifiers, such as Pebble HD or SmartLux Digital, to help users make out images or text.
Meanwhile, AR glasses, object recognition technologies, and automatic mapping engines feed additional information sources to a person while they navigate their environment, both indoors and outdoors. These can be used to supplement canes and guide dogs, which cannot help the visually impaired person detect overhead hazards, for instance.
Finally, AR is also being used to "substitute" or "add" senses for the visually impaired as a way of augmenting their everyday experiences. A technology known as Eyeport, for instance, transmits shape and colour information through musical tones.
In Singapore, the Augmented Reality & Assistive Technology Laboratory at the National University of Singapore undertakes research on AR applications for assistive technology to help dementia and stroke patients. One of the solutions it has developed is an AR keyboard that allows those who have difficulty in moving their body except for slight head and finger movements to control electronic devices at home and access computer functions, such as sending emails and browsing the internet.
2. Doing more with data
Healthcare organisations capture large amounts of data, from patient records to claims information, which can generate useful insights for practitioners using analytics tools. The number of data sources is also growing; microchips embedded in a person can monitor vital signs, while a smart pill is able to analyse bacteria in a patient's stomach.
Big data solutions are helping healthcare professionals make more informed decisions that result in more targeted, and thus more effective, treatments. Singapore-based Vishuo Biomedical, for instance, offers a service that analyses a patient's genomic profile – or a picture of how a person's cells function – to healthcare providers.
Among other applications, genomic profiling is used to find out why some people get certain diseases while others do not, or why they react in different ways to the same drug.
"Tailoring treatments to a patient's genomic profile and lifestyle will help contain healthcare costs, and focus treatments to improve outcomes rather than simply billing for patient visits or procedures," said Mr Guo Dongliang, Managing Director of Vishuo Biomedical.
3. Internet of (Medical) Things
The healthcare sector has been an eager adopter of connected devices, sensors and systems. The global Internet of Things (IoT) market in the healthcare sector is expected to grow by 15 per cent per year to reach US$117 billion by 2020, according to a recent study from MarketResearch.com.
This robust growth has also been fuelled by a new generation of wearables with more medical applications such as reminders to take medicine, diabetes coaching and pregnancy tracking.
A Singapore-made fitness tracker called Juvo, for instance, monitors metrics such as breathing and heart rate from underneath your mattress, and is being used in nursing homes including All Saints Home.
When linked to a smart thermostat, light or switch, Juvo can adjust a room's temperature and lighting to help the user get better rest. "We thought it would be interesting to give users insights, knowledge and data without being intrusive," said Mah Chern Wern, Co-Founder of Juvo Labs, in a recent interview with IMpact. The company is looking to expand into overseas markets, such as the United States, Britain, Japan, China and Australia.
Meanwhile, the National University Hospital is undertaking trials to assess the viability of remote healthcare by using smart connected devices to monitor patients at home. This not only provides continuous patient monitoring but also reduces costs by cutting down on hospital visits.
4. A reality check
Virtual reality (VR) headsets such as Oculus Rift and Hololens are increasingly being used to help medical professionals train, diagnose and treat patients.
Among other applications, VR solutions can help treat patients with agoraphobia, an extreme fear of public places, and chronic acute anxiety by recreating open spaces such as beaches and shopping centres. This involves monitoring the reactions of patients wearing VR headsets and adapting their treatments accordingly.
The technology is also being used to virtually prepare would-be mothers for potential challenges that may arise in breastfeeding and reduce instances of post-partum depression.
In Singapore, the Infocomm Media Development Authority (IMDA) has partnered leading VR environment creators Side Effects Asia Pacific to work on systems for advanced clinical training. Trainees will be able to experience realistic 3D medical emergency scenarios, such as the resuscitation of critically ill or severely injured virtual patients, using the system.
"This [partnership] could not have happened at a better time; virtual reality has come of age for clinical, research and… classroom applications," said Mr TK Ng, Managing Director, Side Effects Asia Pacific in an interview with IMpact earlier this year.
Meanwhile, Tan Tock Seng Hospital is the first hospital in Singapore to use VR technology in systems designed for the rehabilitation of patients with stroke, brain injury, spinal cord injury and other neurological conditions. At the hospital's Centre for Advanced Rehabilitation Therapeutics, a VR system is used to help motivate a patient during movement re-training.
5. Protecting privacy
Being able to protect the privacy of patient records has become critical in the digital age. While helping to drive efficiency, the increasing use of connected devices and systems has also given rise to the threat of cyber attacks.
In May, the massive Wannacry ransomware attack shut down work at 16 hospitals across the UK as many were left unable to access basic medical records. One hospital was even forced to cancel all non-urgent operations.
In light of these risks, healthcare providers are beefing up their defenses by implementing adequate security measures and updating their software.
"Good communication, secure protocols, strong authentication and careful network segmentation within healthcare facilities can help the healthcare industry protect patients and their networks despite the rapid deployment of potentially risky IoT devices," said Dick Bussiere, Technical Director, Asia Pacific, Tenable Network Security.