A better Internet for a better world
The Better Internet Campaign focuses on cyberbullying, discernment of fake news and cyber safety.
By Tan Yan Ni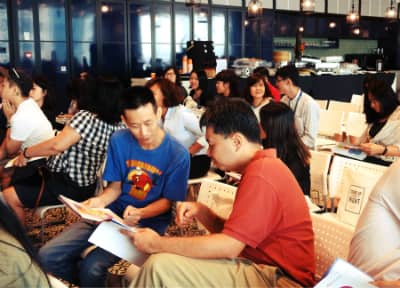 Kids these days are quick to catch on to new media trends and technologies – sometimes even faster than their parents and other elders.
From online shopping to social media, this internet generation is extremely keen to learn and share their everyday encounters and stories with friends through online media.
Amid all the surfing, messaging and poking, it's easy to overlook internet safety, resulting in kids becoming victims of scams and online harassment, or unintentionally engaging in trolling or cyberbullying.
These are some of the issues that the Better Internet Campaign (BIC) aims to tackle, through promoting the safe and responsible use of digital technology, especially among youths and children.
Spearheaded by the Media Literacy Council (MLC), the campaign – with the tagline "Be Safe, Be Smart and Be Kind Online" – runs until 31 December 2018, and aims to address issues such as cyberbullying, discernment (fact-checking) and cybersafety.
Raising smart digital citizens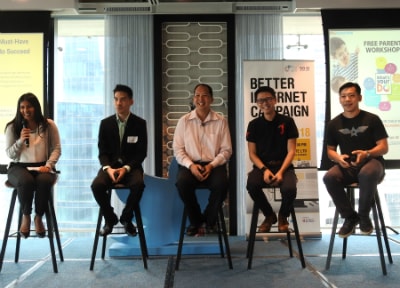 "Parents play a pivotal role in their children's well-being and face new challenges in today's digital society as children are exposed to digital devices at an earlier age," said Mr Lock Wai Han, chairman of the MLC.
This year's BIC marks the launch of a 20-page parent resource, to empower parents to raise safe, smart and kind digital citizens.
The resource is jointly produced by international think-tank Digital Quotient (DQ) Institute and MLC, with translation support provided by Twitter and self-help group, Yayasan MENDAKI.
Digital literacy workshops and a 'What's Your Digital Intelligence' online portal are now available to parents to keep them up to date with technology and equip them with the necessary skills to guide their children in navigating the digital world safely and responsibly.
"It's hard to teach our kids about internet safety when we don't really know what's going on ourselves," said Ms Cindy Low, 48, whose daughter is in Primary 4.
"I'm happy to know that there are resources to help us provide the right advice about interacting with people online."
Building a responsible community
A range of online and offline resources on cyberbullying and discernment will be produced to boost awareness and increase accessibility of such resources among youths and other members of public.
These include instructional videos, television commercials, social media content and tip sheets designed to generate conversations and reflections on these issues.
The campaign is also supported by community efforts, including We-ternet, a social experiment on fake news and internet usage by The Hidden Good, and Zhun Bo – a gameshow-like info-literacy web series for seniors by Temasek Polytechnic.
With initiatives targeted at parents, youths and the general public, the BIC will "support families in becoming more digitally healthy", said Dr Park Yuhyun, founder of DQ Institute.
Safer internet use around the world
The launch of this year's BIC was aligned with Safer Internet Day (SID). Held annually on the second Tuesday of February, SID is a worldwide movement which seeks to promote the safe and positive use of digital technology.
Each year, internet safety-themed campaigns and events are held across the globe to mark SID.
For instance, in line with the theme of this year's SID – "Be the Change: Unite for a Better Internet" – Australia has launched a series of virtual classrooms to encourage collaborative problem solving for issues like cyberbullying.
This year marks Singapore's seventh year of participation in the SID movement.
With a range of activities targeted at internet users of various ages, BIC represents Singapore's efforts in fostering a more responsible virtual community, both locally and globally.
For information on upcoming BIC events, check out www.betterinternet.sg.