Re-inventing delivery, one parcel at a time
By Kami Navarro
Across the world, millions of people are spending more time inside their homes on an unprecedented scale. Unsurprisingly, this has translated into a 50-70% surge in Internet usage. Given the strict social distancing measures, many activities typically held in-person have been moved online. From visiting tourist attractions to hawking fresh produce — and of course, shopping—our new reality is increasingly virtual.
Just like how the 2002-3 SARS outbreak marked the beginnings of e-commerce in Asia, the current pandemic is set to permanently transform the retail landscape as we know it. Since the onset of COVID-19, e-commerce has soared. After all, shopping online offers plenty of benefits compared to physical retail: it's easier to compare prices, it can be done anytime and most importantly—it can be done within the comfort of our homes, far away from crowded spaces where COVID-19 could be easily transmitted.
In this new virtual normal, e-commerce retailers are challenged to make the customer experience even more frictionless. On local shores, e-commerce logistics provider Parcel Perform hopes to help companies overcome the "last mile delivery problem." In other words, the delivery journey of a product from the warehouse's shelf to the buyer's doorstep.
Data-driven delivery
Southeast Asia is the fastest growing e-commerce region with a compound annual growth rate of (CAGR) of 62% over the past three years, as seen in a 2019 survey from Parcel Perform. And yet, delivery continues to be one of the biggest challenges faced by regional consumers. In the same survey, approximately 34% of customers in Southeast Asia indicated that they were unhappy with delivery service. Moreover, over 90% of customer complaints and negative feedback were found to be due to prolonged transit times and late deliveries.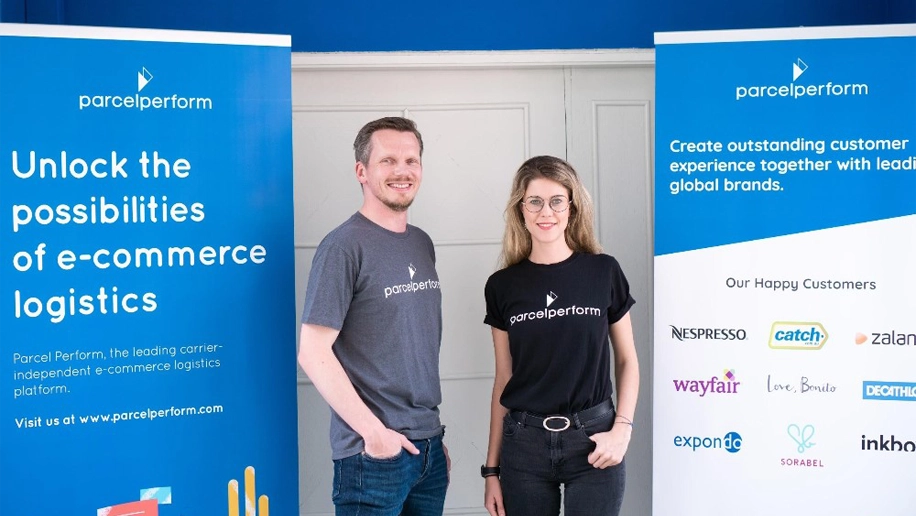 According to Dr Arne Jeroschewski, Founder & CEO of Parcel Perform, this dissatisfaction could be traced back to the fact that many e-commerce retailers left their post-checkout delivery experience in the hands of logistics carriers. "This results in the retailers having little control over their customer's post check-out experience and prevents visibility on their carrier's performance," explained Dr Jeroschewski. But consumers view delivery as the retailer's responsibility and not the carrier's, he added.
To improve customer experience post-checkout and provide more transparency in logistics, Dr Jeroschewski started Parcel Perform in 2016 with his co-founder & COO Ms Dana von der Heide. With over 600 carriers around the world on its platform, Parcel Perform is a software-as-a-service that aggregates logistics data to optimise performance.
Optimising logistics is especially important in scenarios such as cross-border deliveries, where parcels are handled by multiple carriers along the way. To make the journey as seamless as possible for both the retailer and customer, Parcel Perform is able to automatically determine all carriers involved in the delivery process and easily integrate data from these various carriers without any duplication. Moreover, the platform is also able to provide personalised updates in over 30 languages—further enhancing the customer experience.
With functionalities including the creation of fully-branded tracking pages and a comprehensive customer service toolkit, Parcel Perform has already attracted big-name clients including Nespresso, Decathlon and local fashion favourite Love, Bonito.
We want to ensure e-commerce businesses create an environment where their customers have a fantastic shopping experience and become lifelong customers.
Dr Arne Jeroschewski
Parcel Perform Founder & CEO
Part and parcel of innovation
Just two years after its founding, Parcel Perform cemented its place as a crucial player in Singapore's logistics ecosystem by developing the interoperability platform of the Infocomm Media Development Authority's (IMDA) Locker Alliance pilot. As suggested by its name, the Locker Alliance brings together local locker providers like Singapore Post and blu into one network, allowing online purchases to be delivered to convenient lockers nearby.
First rolled out to 78,000 residents in Punggol and Bukit Panjang in December 2018, the lockers were installed across 60 locations in the two towns. With so many moving parts, it was Parcel Perform's job to create an effective infrastructure that could allow different locker operators, end-consumers and merchant partners like Lazada to use the network in a frictionless manner.

The pilot was a resounding success—resulting in a four-fold performance improvement and cost savings compared to traditional doorstep deliveries. Building upon the pilot, IMDA is now working on the nationwide rollout of 1,000 parcel locker stations over the next two years, with Parcel Perform powering its interoperability platform.
It's an achievement that Dr Jeroschewski and the rest of the team is understandably proud of. "The Locker Alliance project enabled us to contribute our expertise in microservice design and platform architecture," he shared. "Collaborating with IMDA over the last few years helped us tremendously to gain credibility as a young company. Beyond showing how we can support IMDA's innovative initiatives in the logistics space, this experience has also given us inspiration for new use cases to support our customers."
Gearing up for a post-COVID world
Given that COVID-19 is triggering a wave of digital transformation across the world, Dr Jeroschewski is confident of Parcel Perform's place in the new normal. "There will be a growing need for expertise and resources in e-commerce logistics," he said. "More retailers will increasingly shift to online-first behaviour and we need to make sure we can accommodate these growth opportunities."
To this end, Parcel Perform already has a series of initiatives in place to prepare for the post-COVID world. This includes leveraging machine learning to predict delivery trends, refining their customer engagement processes and scaling their platform's capabilities to accommodate the increase in user volume. They've also recently been accredited by the IMDA's Accreditation@SGD programme, with the rigorous testing and feedback helping them refine their platform and build more future-proof processes.
With all these elements in place, Parcel Perform is set to not just reach the last mile in delivery, but even surpass it.
This feature is the fourth in a series of articles profiling accredited companies under IMDA's Accreditation@SG Digital (Accreditation@SGD) programme. First launched in July 2014, Accreditation@SGD contributes to an innovative infocomm media ecosystem by accrediting promising Singapore-based tech product companies to establish their credentials, build business traction, and help them to grow and compete in the global market. The evaluation process provides an independent third party evaluation on the SGD-accredited companies' claimed product core functionalities and ability to deliver.
As of February 2020, over S$430 million worth of project opportunities have been created for accredited companies. Close to 1,000 projects have also been awarded. For more information, please refer to this link: www.imda.gov.sg/accreditation