Release the delivery robots!
By Erinne Ong
Everyone loves receiving a package. Whether it's a delicious meal ordered half an hour ago or a fancy floral arrangement sent by loved ones, the arrival of these items often add a dash of excitement to our days. Unsurprisingly, the pandemic has spurred the e-commerce industry to grow by leaps and bounds, showing an 87 percent year-over-year growth from 2019 to 2020 in Singapore alone.
Despite the enduring popularity of online shopping, issues like delayed deliveries or growing concern over environmental impacts can dampen the e-commerce experience. Here to address some of these logistical woes are autonomous mobile robots (AMRs) that are powered by artificial intelligence, traversing the final mile to bring parcels to you—whenever it's most convenient. With a one-year trial led by the Infocomm Media Development Authority (IMDA) and its partners now underway in Punggol, these AMRs will soon be arriving to make the delivery process speedy, safe, and worry-free in Singapore.
Say hello to Camello
Residents of Waterway Woodcress can now enjoy the delivery services of the autonomous robot Camello, which was launched on 18 February 2021. The trial is set to evaluate technical abilities like the robots' capacity to navigate, as well as detect and avoid obstacles; the needs for road and communications infrastructure on robot performance, as well as the commercial viability of the entire endeavour.
Led by IMDA, the trial is conducted in partnership with the Housing & Development Board (HDB), Land Transport Authority (LTA), Urban Redevelopment Authority (URA), logistics service provider CM Logistics, supermarket chain NTUC FairPrice, and technology provider OTSAW.
According to Senior Minister of State Dr Janil Puthucheary, who was present as Camello, a showcase of artificial intelligence in Singapore, showed off its skills at the neighbouring Oasis Terraces community centre in Punggol last 10 March 2021, the residents' active participation and feedback will be crucial for the trial's success.
We should find out what works well, how to improve it, what are the design considerations. We have a demographic group in Punggol that's likely to do online ordering and is a bit more familiar with using technology.
Dr Janil Puthucheary
Senior Minister of State
While the trial by IMDA will start with two robots to deliver parcels and groceries, OTSAW CEO Mr Ling Ting Ming envisions scaling up to 20 robots within the next six months and 200 robots over the year. "We are getting requests from many customers such as F&B retailers, other operators, and even the airports," he shared. "We are talking with several sectors to look at how we can commercialise and accelerate adoption of this technology."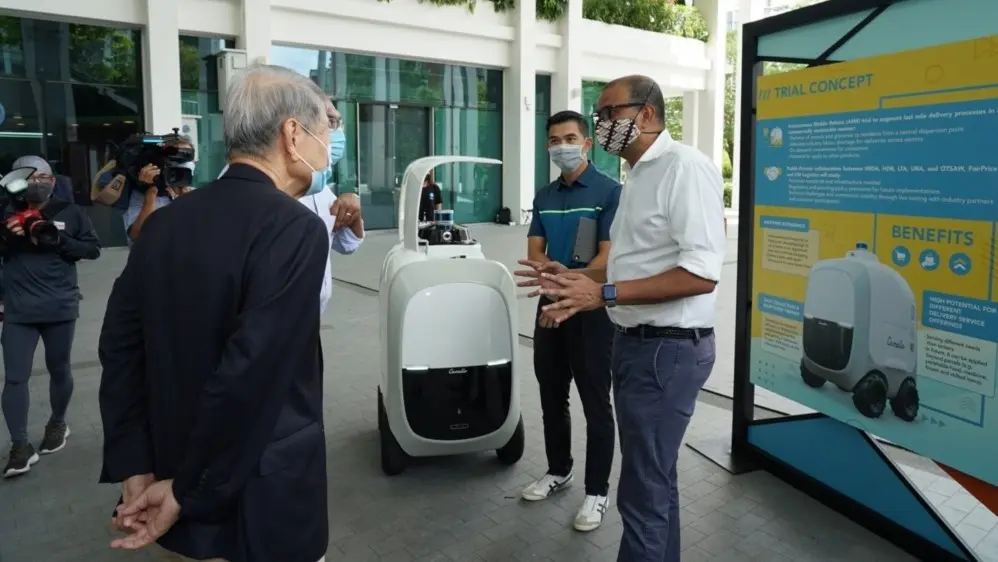 Deliveries on demand
As is the case when robots are involved, Camello's delivery process powered by artificial intelligence is remarkably convenient. Residents can simply shop online or handpick groceries at the supermarket. These goods are then entrusted to dispatch operators, who load them into the robot, and with a preferred delivery schedule set, the robot takes care of the rest!
Moving at safe walking speeds of five kilometres per hour, Camello expertly navigates turns and climbs ramps—all while navigating the route to the destination. Collisions are also nothing to worry about; armed with multiple sensors and an AI-powered avoidance system, Camello will alter its course to avoid obstacles or pull to a halt if someone dashes across its path. Despite these precautions, safety officers will still accompany the AMRs throughout the trial period.
As deliveries can be scheduled at a customer's preferred time, recipients no longer have to fret over a parcel arriving while they're not home or caught in the middle of a Zoom call. Buying too many items will no longer be a concern too—leave the heavy lifting to the robot, which can hold up to 20 kilograms of cargo.
Because my muscle strength is not there, usually I will split up my purchases. With this [robot], I can purchase items all in one go, then I just leave them for the robot to send to me.
Mrs Christine Chong
Local resident who tried out the AMR
Finally, residents like Mrs Chong can expect two notifications to arrive via a mobile application—one when the robot is on the way, and another when it reaches the collection point, conveniently situated near each block's lift lobby. Further safeguarding the cargo, Camello's compartments can only be unlocked with a QR code or one-time password. No more missed or missing packages!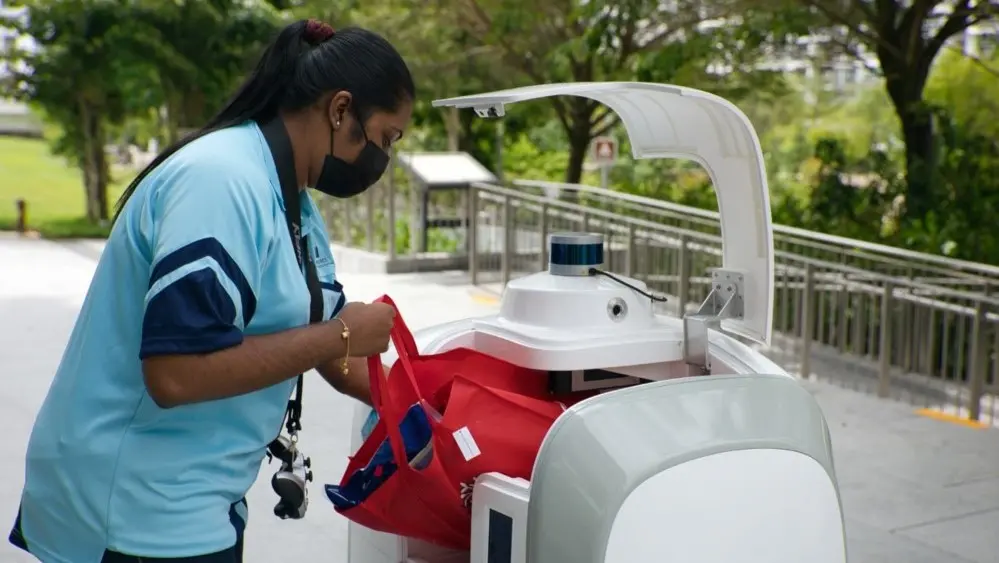 Robots in the new normal
With AMRs in charge of deliveries, distribution efficiency is sure to increase, bolstering the high demand for delivery services. Compared to gas-guzzling delivery vehicles, AMRs are also more environmentally friendly, opening the doors for a future with more sustainable—and more productive—deliveries. But beyond these clear benefits to the e-commerce and logistics industry, integrating such technologies into our daily lives will require encouraging the public to fully embrace the innovation.
"How do we design the robot to work well in human spaces? And how do we design human spaces to accommodate the robot?" Dr Puthucheary posed. "You have to introduce [it] so Singaporeans get used to this kind of technology. Hopefully [this trial] will help them absorb new technology easier and faster," added Mr Liau Eng Soon, Cluster Director for Trade and Connectivity at IMDA.
Get ready to see IMDA-supported AMRs like Camello in your area soon—the future of delivery is coming your way!