How e-invoicing drives sustainability for FUJIFILM Business Innovation Singapore
By Erinne Ong
As a driving force for digital transformation across different industries, FUJIFILM Business Innovation Singapore is in the business of providing document processing services—equipping business ventures with smarter, digitised solutions for automating workflows, securing data and managing communications.
With a strong tradition of advocating for sustainability and business innovation, FUJIFILM is at the forefront of embracing change—solving social issues through their business activities in the process. This has led the company to put into place innovative action plans to reduce their environmental footprint and provide value in response to society's ever-changing needs.
Faced with the twin pressures of adopting digitalisation and spotlighting sustainability, FUJIFILM adopted InvoiceNow, the nationwide e-invoicing initiative implemented by the Infocomm Media Development Authority. By replacing tedious, paper-heavy and outdated manual systems with greener and more efficient invoicing processes, FUJIFILM today embodies sustainable digitalisation in both its products and workflows.
Transforming business processes
Founded in 1965, Fuji Xerox Singapore established itself globally as a manufacturer of photocopiers and printers, later expanding to digital transformation and business enhancing solutions such as workflow automation and enterprise content management. Just this year, the company rebranded to FUJIFILM Business Innovation Singapore to better capture its focus on IT solutions and commitment to helping companies grow through digital innovation.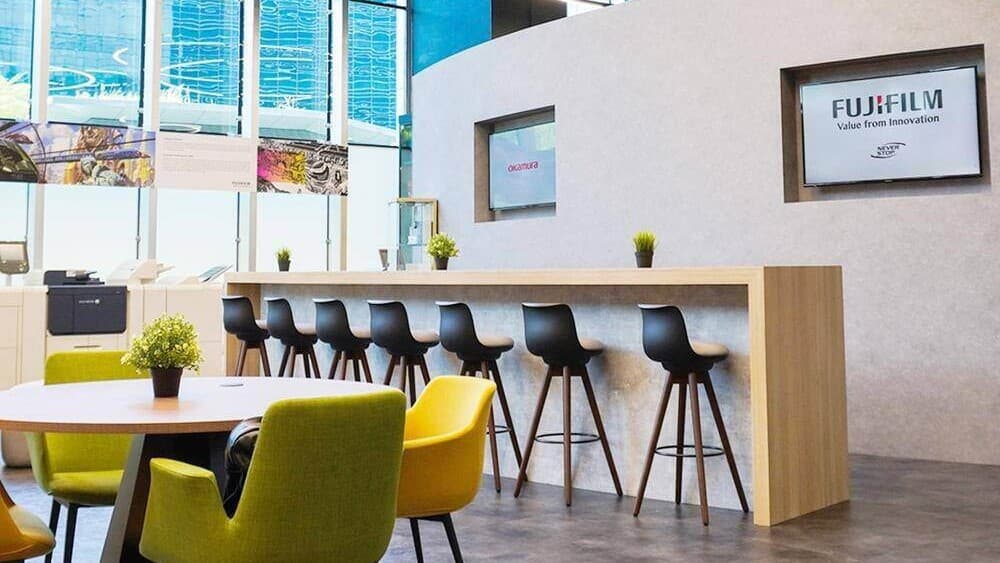 "We have pioneered numerous technologies and accumulated expertise to build an environment that encourages the use of one's creativity by effectively adopting information and knowledge," shared Mr Peter Wong, Chief Financial Officer at FUJIFILM.
As a champion of digitalisation, the FUJIFILM team set out to resolve their own bottlenecks—addressing pain points in their traditional invoicing process, such as lost invoices and missed payments. To walk the talk and serve customers better, the company adopted Esker's Accounts Receivable Solution, which allows them to send e-invoices directly from their solution securely into their clients' accounting solution if they are also InvoiceNow-ready.
With the Accountant-General's Department (AGD) on the network, FUJIFILM can also send e-invoices to government agencies they have business transactions with. In addition, Esker's solution enables deft management of client data and correspondences, even safely archiving invoice records for up to seven years.
One network fits all
FUJIFILM's newfound efficiency is a stark contrast to its previous paper-based billing processes. Before they adopted InvoiceNow, the company dealt with around 25,000 invoices each month. Not only were these invoices prone to typographical errors, manual invoicing was also extremely tedious—taking up to nine days to complete all the documentation.
Moreover, the huge amount of paperwork made it difficult for the company to keep track of its finances and follow up on late payments. In some cases, the invoices even failed to reach the customers due to outdated delivery addresses.
We hoped to reduce human errors and increase productivity.
By shifting to e-invoicing, the company significantly optimised its finance workflows, shortening processing time to just three days. Instead of being bogged down by paperwork, staff were now freed up to engage in more meaningful, client-fronting tasks—driving up productivity for the company as a whole. This digital transformation is also fully in line with FUJIFILM's sustainable-first philosophy, cutting down on paper waste.
With the company's tradition of championing digital efforts, it's no surprise that FUJIFILM's switch to e-invoicing also encouraged their business clients to hop onboard the InvoiceNow network. Since InvoiceNow-ready systems all use a standardised format for e-invoices, having other enterprises joining the network enabled seamless transactions between them and FUJIFILM. "It was difficult at the initial stage, but we foresee that we will get more accustomed to the new interface and transition fully," shared Mr Wong.
As more and more companies use InvoiceNow, businesses such as FUJIFILM and customers alike stand to benefit from more sustainable, streamlined processes—positively impacting Singapore's digital economy and the environment in the process
Make the switch to e-invoicing just like FUJIFILM! To learn more about InvoiceNow and how joining the network can accelerate your business growth, register today for our monthly briefing webinar—available in both English and Mandarin..