Caring for the community through providing greater digital access
By Tatiyana Emylia
From staying socially active by communicating with loved ones over a video call to staying fit with online classes, Singapore's seniors stand to gain from a variety of digital tools available today. However, obstacles like the cost of internet connectivity and lack of digital literacy can restrict them from accessing the full benefits of such tools.
To address this, various digital literacy initiatives and solutions have been implemented to help seniors go digital and overcome these barriers and fully benefit from digital tools.
At Care Corner, staff and volunteers work to support the well-being of disadvantaged Singaporeans. In particular, their senior services enable older Singaporeans to age well in place with holistic engagement, wellness programmes, and specialised care plans.
Working in partnership with the Infocomm Media Development Authority (IMDA) as part of the Digital for Life movement, Care Corner helps elderly beneficiaries apply for internet connectivity through IMDA's DigitalAccess@Home programme. The organisation also provides guidance and digital solutions for beneficiaries to better harness the digital options available to them.
Find out how Care Corner and IMDA bring digital conveniences into the homes and hearts of Singapore's seniors.
Staying social, despite distance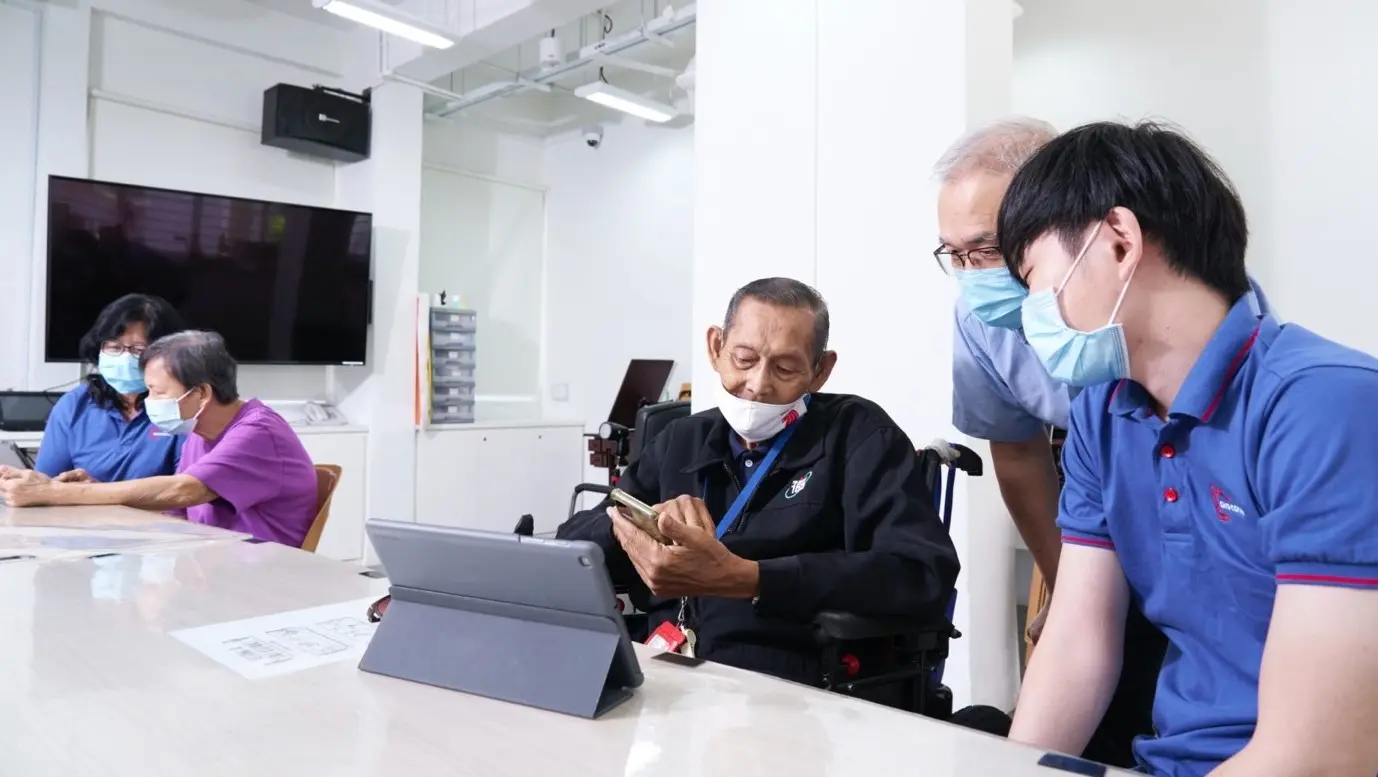 First conceptualised in 2020 at the height of the COVID-19 pandemic restrictions, the SeniorsConnect Digital Skills Initiative launched by Care Corner and supported by IMDA's Home Access programme aims to increase digital adoption and inclusion among the elderly. Aware of the dangers of social isolation, Care Corner launched the initiative to continue engaging seniors at home and make digital engagement part and parcel of their daily lives.
"The seniors had to stay home for extended periods of time and could no longer visit our centres physically," explained Mr Daniel Chien, Senior Group Director of Care Corner's Seniors Services. "While this kept them safe from contracting COVID-19, it had adverse impact on their social and emotional well-being."
The programme's plan for digital adoption and inclusion is two pronged—education and engagement as well as access to digital solutions. The centre regularly holds online programmes and workshops, primarily through Zoom, to educate seniors on how to use digital tools and keep them actively engaged. Some of these programmes include morning exercises, birthday and festive celebrations, craft workshops, and even eating together online.
But perhaps more importantly, Care Corner aids seniors by equipping them with access needed to partake in these activities. With the help of IMDA's Home Access programme, seniors are granted Internet access at their homes. By bringing access to digital tools into their homes, senior citizens who used to enjoy in person activities at the Care Corner Active Ageing Centre can still join in the fun from the safety of their homes.
I used to go to the Care Corner Active Ageing Centre almost every day to take part in activities and spend time with my friends. During the pandemic I was bored and stuck at home. I'm really grateful for this programme because I learned skills that give me the confidence to use technology and connect with my friends and family online.
Mdm Goh Siew Eng
Beneficiary of Home Access programme
To date, the initiative has benefited 270 seniors, many of whom are low-income Singaporeans residing in rental flats, across seven Active Ageing Centres. These beneficiaries are in their early sixties to late eighties, either looking for recreational activities to fill their time or searching for companionship.
It starts at home
With the Home Access programme, eligible Singaporean families can benefit from two years of subsidised fibre broadband connectivity. Eligible families without school-going children could opt to bundle the broadband with a tablet or a smartphone. Through SeniorsConnect Digital Skills Initiative, eligible elderly citizens can also apply for and benefit from the scheme. Currently, Care Corner's digital initiative supports 70 seniors under the programme.
The scheme enables seniors to participate freely in numerous online programmes at home without worrying about exceeding mobile data plans or incurring expensive bills. As such, Home Access has been pivotal to the adoption of SeniorsConnect and digital tools as a whole.
Together with other digital inclusion programmes like IMDA's Seniors Go Digital, the Home Access Programme has contributed to the increase in Singapore's household level broadband penetration rate from 87 per cent in 2016 to 98 per cent in 2020.
This is more than just providing seniors with free internet access. This is about transforming their lives, giving them easier access to help and resources, helping them stay connected with people, stay mentally alert and aging well.
Edward Tang
Care Corner Zone Supervisor
As Singapore continues its transformation towards becoming a digital society, it is vital that no one gets left behind in the pursuit of progress. Community efforts from Care Corner and the Home Access programme ensure that vulnerable individuals continue to have access to digital solutions.
As a social service organisation, we recognise that we may not have the necessary resources to support a huge population of seniors. Therefore, partnerships and engagements with government bodies like IMDA are critical as they allow us to leverage on schemes and resources such as Home Access Scheme to support our seniors.
Mr Daniel Chien
Senior Group Director of Care Corner's Seniors Services