By Mitchell Lim
Small and mighty, Singapore's start-ups and SMEs make up 99 per cent of all the nation's enterprises and currently support roughly 71 per cent of total employment. As they grow and develop, so too does Singapore's reputation as a regional hub for cutting-edge technology and innovation. However, building a business, closing deals, and earning a reputation to assure customers and clients are challenges any business owners face.
In that department, the Infocomm Media Development Authority of Singapore (IMDA) launched the IMDA Accreditation programme, to help put innovative Singapore-based companies on the path to success.
Under the IMDA Accreditation programme, the credentials of promising companies are validated to position them as quality contenders to potential clients, such as government agencies and large enterprises. This assurance by IMDA allows the companies to gain crucial visibility and access to key decision-makers through regular showcases, and creates confidence for deal-making or even new growth capital into these companies.
From streamlining talent recruitment to humanising traditionally emotionless chatbots, a plethora of innovative technologies with the potential to revolutionise our daily interactions have been cultivated by the IMDA Accreditation programme. Here are four local-based successes enrolled in the programme that showcase the potential of digital solutions and artificial intelligence as part of Singapore's digital transformation journey.
Hiring impressive employees with AI
To achieve excellence, companies must hire and nurture excellent individuals. From evaluating resumes to responding to candidate queries—recruitment is typically a highly manual and time-consuming process. Launched in 2017, impress.ai taps on artificial intelligence (AI) to streamline the process for high-quality and efficient hiring.
With an easy-to-use interface and simple data integration from a variety of sources, impress.ai helps companies process applications quickly and efficiently. The company's AI-enabled chatbots also ensure fair hiring processes by minimising unconscious human bias and evaluating candidates through a series of objective assessments. This ensures that candidates are selected based on their talent, knowledge and capabilities, as opposed to their gender, race or name.
Since impress.ai participated in IMDA Spark, another IMDA programme that supports younger Infocomm and Media start-ups, and later moving on to the IMDA Accreditation programme, their revenue has grown over five times over the past few years, doubling their employment in Singapore.
The company has also vastly expanded its client portfolio, attracting over 50 enterprise and government clients such as DBS, Singtel, Asian Infrastructure Bank and Ngee Ann Polytechnic. They also won Silver in the 2020 Techblazer Awards and are now penetrating the Indian and American markets.
Thanks to being IMDA-Accredited, we were able to renew and expand on our existing accounts as well as close two new additional deals with government agencies. Customers are now trusting us with larger scopes and longer contracts.
Sudhansu Ahuja
CEO and Co-Founder of impress.ai
Walking hand in hand towards digital transformation in Singapore
It's no secret that digitalisation is a boon to companies looking to increase efficiency and profit. In fact, in 2022, global spending on digital transformation is expected to reach a whopping US$1.8 trillion. Here in Singapore, tech start-up, WalkMe, founded in 2011, aims to offer companies a helping hand as they integrate new technologies into their daily operations.
A simple no-code solution, WalkMe's Digital Adoption Platform (DAP) can be accessed on multiple platforms and enables organisations to measure and evaluate the impact of their digital transformation. Powered by AI and machine learning, WalkMe's algorithm enables data-driven decision-making for companies to unlock the full value of their digital assets.
Since joining the IMDA Accreditation programme in 2019—through its tight-knit network and leveraging IMDA's validation—WalkMe has had the opportunity to help several government agencies maximise their digital transformations. The company has since participated in multiple networking and industry events and greatly accelerated their online marketing presence with the intention of further expanding their regional reach.
Bringing a human-touch to automated conversations
Have you experienced the dissatisfaction of conversing with an automated chatbot that just doesn't get you? Meanwhile, traditional human-based customer service is marred by long waiting times and typically nine-to-five operating hours.
To achieve the best of both worlds, WIZ.AI, Southeast Asia's leading conversational voice AI technology innovator, has developed a human-like voice AI that delivers hundreds of millions hyper-personalised, automated, omnichannel customer engagement interactions every day.
WIZ.AI's humanistic conversational voice AI solutions listens, understands and speaks like a local, communicating in local languages and accents, including a variety of languages spanning, English, Malay, Tagalog and more. The system even includes informal forms like Singlish and Taglish.
The Talkbot platform also empowers and optimises data-driven customer engagement, through its analytics capabilities that can help clients map out personalised customer journeys and identify common pain points highlighted.
WIZ.AI's ground-breaking product combined with the recognition afforded by the IMDA Accreditation programme has steered the company to great success. For their innovation, WIZ.AI was selected as one of the 100 most promising Technology Pioneers of 2022 by the World Economic Forum (WEF). They also won the Silver award in the 2021 Techblazer Awards and have managed to break into a myriad of industries including telecommunication, healthcare, banking and finance and insurance.
Currently, WIZ.AI serves over 200 clients, including top brands and Fortune 500 companies from various industries.
Being part of the IMDA Accreditation programme has helped us with our branding and trust especially in the early days when we were in talks with large financial institutions.We have also benefited immensely from being part of IMDA's ecosystem and network, which helped us gain greater market insight and develop connections with potential clients.
Jennifer Zhang
CEO and Co-Founder of Wiz.ai
Getting on the right path with Nextbillion.ai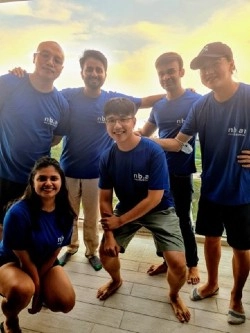 It can be frustrating when a navigation app brings you to the wrong destination. It can also be frustrating for businesses when deliveries don't go as planned. More than just another map provider, NextBillion.ai paves the way to solve these issues by creating an all-in-one mapping solution.
Applicable across a variety of functions from ride-hailing to emergency services, the company's industry-leading, AI-powered spatial data platform optimises routes and enables real-time updates and scheduling in some of the most far-flung locations across the world. Such capabilities help people, businesses and emergency services get where they need to be, when they need to be there—with the added option of managing and tracking multiple vehicles at once.
With the help of IMDA Accreditation and the confidence the programme inspires, the company has seen great success. In fact, Nextbillion.ai has recently sealed a US$21 million Series B funding and with their headquarters in Singapore, they have plans to build a deep tech team locally and scale their products to overseas markets. The company also made it to the WEF's 2022 Technology Pioneers list and won Silver in the 2020 Techblazer Awards.
Is your business on the cusp of greatness? Or are you looking to work with IMDA-Accredited innovators? Find out more about IMDA Accreditation!