Leong Keng Thai, Acting Chief Executive/Director-General (Telecoms), IDA Singapore - Welcome Address Singapore Malaysia Joint Stamp Issue and Exhibition, Parco Bugis Junction Singapore, 27 June 2002
Leong Keng Thai, Acting Chief Executive/Director-General (Telecoms), IDA Singapore - Welcome Address
Singapore Malaysia Joint Stamp Issue and Exhibition, Parco Bugis Junction
Singapore, 27 June 2002

Mr Ramlan Ibrahim, Malaysia Deputy High Commissioner,
Mr Haji Mohd Zin Bin Abdul Manap, Senior General Manager of New Business & Support Services of Pos Malaysia,
Distinguished guests,
Ladies and Gentlemen,

Good morning and welcome to the official launch of the Singapore-Malaysia Joint stamp issue and exhibition. On behalf of the organisers, I am extremely pleased to extend a warm welcome to our guests from Pos Malaysia and all of you who have specially taken time off to attend this event.
I am very honoured to be here for this important joint initiative, the first ever-joint stamp issue by SingPost and Pos Malaysia.
Joint stamp issues do serve as powerful means to promote friendlier ties between participating postal administrations. Such co-operation also promotes goodwill, fosters greater interaction and helps forge strong contacts between the respective counterparts as they work on a common project.
Joint stamp issues enable the philatelic departments to share their expertise in stamp designing and production. This may prove to be extremely valuable as stamp production and the promotion of the hobby of stamp collecting get increasingly challenging.
As close neighbours, it is indeed appropriate that SingPost and Pos Malaysia coming together to work on this joint stamp project. More of such joint projects through stamps or other services would certainly help foster a closer working relationship between the two postal administrations.
We have come a long way since the first use of stamps for Malaysia and Singapore. It was in 1854 that the stamps of the East India Company were introduced to the Straits Settlement that comprised Malacca, Penang and Singapore.
Indian stamps were used until 1867 when they were replaced by the first Straits Settlements stamps. 81 years later, separate from the Straits Settlements, the first set of Singapore stamps was issued in 1948.

The word 'Malaya' was then printed on all Singapore stamps until 1959 when Singapore became self-governing. An interesting fact is that all Singapore and Malaysia stamps were interchangeable for local as well as overseas delivery until the beginning of 1967.
The Republic of Singapore started issuing its own stamps in 1966 and the Stamp Advisory Committee, now under the Infocomm Development Authority of Singapore, was formed shortly to advise on the selection of stamp themes and the design of stamps.
Each stamp tells an interesting story. Through stamps, one can catch the glimpse of history of both Malaysia and Singapore from the days of the Straits Settlements, through the sombre days of the Japanese Occupation to self-rule and independence. From these stamps, one can also see the close ties between the two countries.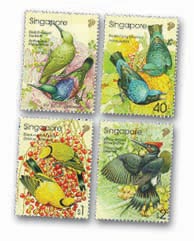 Today's joint stamp issue launch marks a significant milestone in the postal history of both Singapore and Malaysia.
I extend my appreciation to the team involved in the production of this beautiful and meaningful collaborative work. I am sure that they have benefited from the sharing and the working together and have established firm ties that will facilitate future co-operation through joint stamp issues.
In conjunction with the launch of the stamps, there will be a 4-day fair with participation from Pos Malaysia and the Malaysian Tourism Promotion Board. Do take some time to savour the many attractions and the array of wonderful holiday destinations that Malaysia offers.
On behalf of the organisers, I would like to thank Bugis City Holdings, who kindly hosts this meaningful event.
Last but not least, I would like to congratulate all who have contributed to making this event a success. To our Malaysian guests, I wish you a pleasant stay in Singapore.
Thank you.