About
As a highly urbanised city state, buildings account for over 20% of the Singapore's carbon emissions. The greening of buildings is therefore an important part of Singapore's climate change mitigation strategy, and is in tandem with the SG2030 GreenPlan to advance Singapore's national agenda on sustainable development.
Faced with growing concerns in climatic change and demand for sustainable businesses, companies in the Built Environment (BE) sector are becoming more environmentally conscious and are making efforts to infuse sustainability practices within business operations. With energy consumption making up almost a third of total operating costs, it is increasingly important for the industry to start taking action on sustainability, so as to address shifts in mindsets and challenges in higher operating costs.
Digital Tech for Sustainability Playbook
Against this backdrop, IMDA believes that digital technologies can be a key enabler to help BE companies better manage the use of resources and achieve sustainable outcomes. IMDA has launched a Playbook (Digital Tech for Sustainability – In Building Management), developed together with industry partners1, to raise awareness on sustainability as well as drive the adoption of digital technology for sustainability in building management.
1Industry partners/associations/agency: Singapore Green Building Council (SGBC), SGTECH, Singapore International Facility Management Association (SIFMA), World Wide Fund for Nature – Singapore (WWF-Singapore) and the Building and Construction Authority (BCA).
Tech for Sustainability Toolkit
A Tech for Sustainability Toolkit has been developed to help companies assess their state of readiness for sustainability and technology adoption.

Through these resources, businesses can better understand the impact of sustainability and how digital technology can bring about benefits such as reduced operating cost and business growth.
Download Playbook here Access Toolkit Here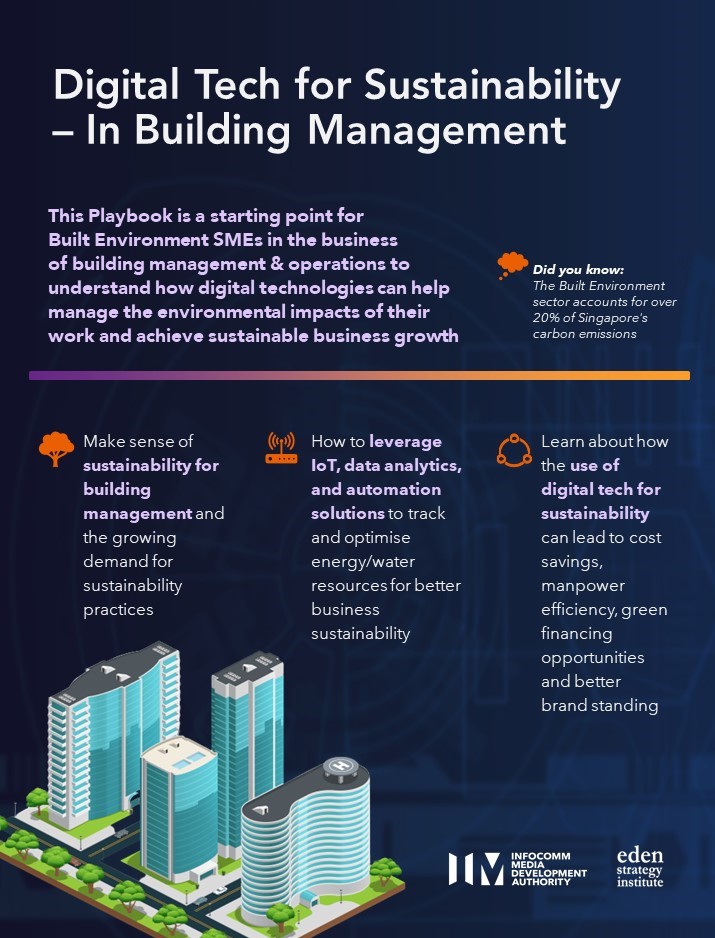 Who is it for?
SMEs in Built Environment, in particular facilities management providers and building owners in these services:
General Maintenance (cleaning, landscaping, waste disposal)

Integrated Building Management/System

Mechanical & Engineering works (electrical systems services, HVAC services, lift & escalator operations, plumbing & pump chiller works)
Benefits
Businesses can access the Playbook (Digital Tech for Sustainability – In Building Management ) as a guide on sustainability outcomes (e.g. tracking indicators) in the area of building management and operations and the types of available digital technology that can help to achieve these outcomes. Through tracking and monitoring of sustainability efforts and outcomes, enterprises can also potentially achieve greater cost savings and be able to gain access to other green resources such as green financing and Green Mark certification.
Through the Tech for Sustainability Toolkit, businesses will be able to assess their overall sustainability and tech readiness levels, and receive recommendations including the type of digital solutions and resources that are available to aid the company's sustainability efforts.
Contact
For clarifications on the Playbook & Toolkit, please submit your queries via this form