By Jill Arul
Crunchy, sweet and piping hot—banana fritters fresh out of the fryer are a delicious treat available in supermarkets and an online store soon across Singapore. However, for the roughly 203,500 Singaporeans living overseas, the snack is far less attainable. With the help of a digital consultant, the family-run business is working to reach beyond its hawker stall and achieve its goal of overseas expansion after the digital transformation strategy consulting. Now, the team provides Singaporeans and other groups overseas with the fuss-free option of heating up frozen banana fritters and enjoying them in the comfort of their own homes—all without comprising on taste.
In the midst of COVID-19, Mr Alan Lee set up a site to sell his family's fritters online. With a small following on social media and island-wide delivery, G20 Banana managed to tide over the pandemic. On top of spurring online success, the pandemic also sparked an idea to export ready-to-cook frozen banana fritters so that Singaporeans who were unable to travel back home can still enjoy the snack.
However, the expansion was no mean feat as Mr Lee lacked the necessary knowledge, experience and resources to bring his frozen fritters overseas. Even though he was aware that there were e-commence platforms that he could tap on, he was unsure which would best suit his business needs. While searching for a solution, Mr Lee discovered Infocomm Media Development Authority's (IMDA) Chief Technology Officer-as-a-Service (CTO-as-a-Service). CTO-as-a-Service provides end-to-end support for SMEs to go digital to access digitalisation resources including in-depth digital advisory and project management services from experienced consultants that would effectively act as temporary CTOs.
Through CTO-as-a-Service, Mr Lee was able to get in touch with a digital consultant that could guide him towards digital solutions that would help him bring his hawker business abroad without the need to set up a physical office. On top of connecting Mr Lee with buyers and suppliers overseas, the proposed e-commence platform also standardised his business' sales order processes across countries. Find out how CTO-as-a-Service helped Mr Lee get on track to achieving his goal of sharing his family's famous fritters with the world.
Armed with an international goal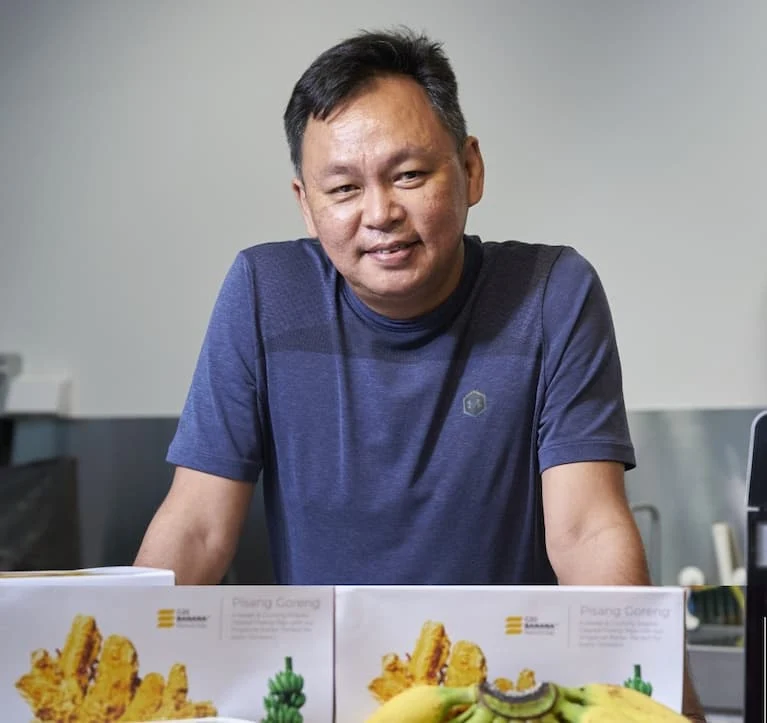 Packed tightly among a smorgasbord of popular food stalls at the Old Airport Road Hawker Centre, Mr Lee's stall, Geylang Lorong 20 Banana Fritters, is well known for their variety of battered and fried goods. Mr Lee sells everything from fried yams and durian fritters to the classic goreng pisang and cempedak.
Unfortunately, when COVID-19 hit and restrictions kicked in, the usual crowd observed at the hawker centre quieted down. Quickly pivoting, Mr Lee launched a website to market and sell their snacks online. To ensure a steady stream of business, he also offered island-wide delivery—an arduous task that turned out to be worth the effort.
Today, Mr Lee is expanding his business beyond his family's brick-and-mortar business and is harnessing digital solutions to bring his products overseas so that a bigger audience can have a taste of the local treat. To achieve this goal, Mr Lee tapped on IMDA's CTO-as-a-Service to gain access to expert's help.
The assigned digital consultant took the time to thoroughly understand Mr Lee's business needs for G20 Banana, identify their digital readiness and propose digital solutions that could improve their operations and reach.
Growing and going digital
With guidance from the digital consultant, Mr Lee chose to implement an e-commence platform that will allow him to sell overseas while addressing pain points such as the lack of a physical presence, relevant knowledge, and resources. Through the e-commence platform, Mr Lee can expect to gain access to overseas buyers and supply chain partners as well as streamline exporting, e-payment and listing processes.
Selling overseas is not easy, especially when there are many unfamiliar processes. I also have to oversee several processes like negotiating with suppliers in Malaysia and buyers from China and Taiwan, while I am based in Singapore. With the e-commence platform, I don't have to travel to my office in Malaysia or meet buyers overseas. After listing my product on the platform, it assists with the negotiations, management of deliveries and payment. It also helps to ensure that I distribute my banana fritters through legitimate sale channels.
With help from his digital consultant, Mr Lee has projected that the platform with boost sales by 50 per cent over the next year and scale up the entire business 5-fold within three years.
With this newfound ease, G20 Banana can confidently work with partners abroad to take their products international. A confident entrepreneur but new tech user, Mr Lee found that working with a digital consultant through CTO-as-a-Service opened a new world of opportunities for his family business.
Working with my CTO-as-a-Service consultant enabled me to look at things differently. I'm glad that there is assistance available for small businesses like mine who want to achieve big goals.
Through IMDA's CTO-as-a-Service, local start-ups and SMEs can walk their digital journeys with the valuable guidance of experienced consultants—crossing barriers and borders to bring their business to the next level.
Are you hoping to bring your business overseas or are you unsure of how to begin your digital journey? Find out more about CTO-as-a-Service!