Preserving heritage in a pandemic with digital solutions
By Jill Arul
While technology has become a significant part of running a business in the 21st century, many SMEs might not initially see the need to implement digital solutions until they face challenges. This is especially true for traditional businesses that have had consistent processes in place for decades. In the case of 25-year-old snack bakery that makes old school mung bean biscuits, House of Tau Sar Piah, the steady stream of customers from the temple next door and people working nearby meant there was no need to go digital and make changes to the well-oiled machine—that is, until COVID-19 lockdowns came into effect.
Without the ability to digitalise, SMEs like House of Tau Sar Piah can find themselves faced with inefficient operations or even a shrinking consumer base—especially in the midst of challenges like the pandemic.
Thankfully, with the help of the Infocomm Media Development Authority (IMDA) and the SMEs Go Digital programme, House of Tau Sar Piah was able to implement plug-and-play digital solutions to breathe new life into the business while preserving their tradition of delivering tasty snacks and pastries for generations to come.
Becoming a household name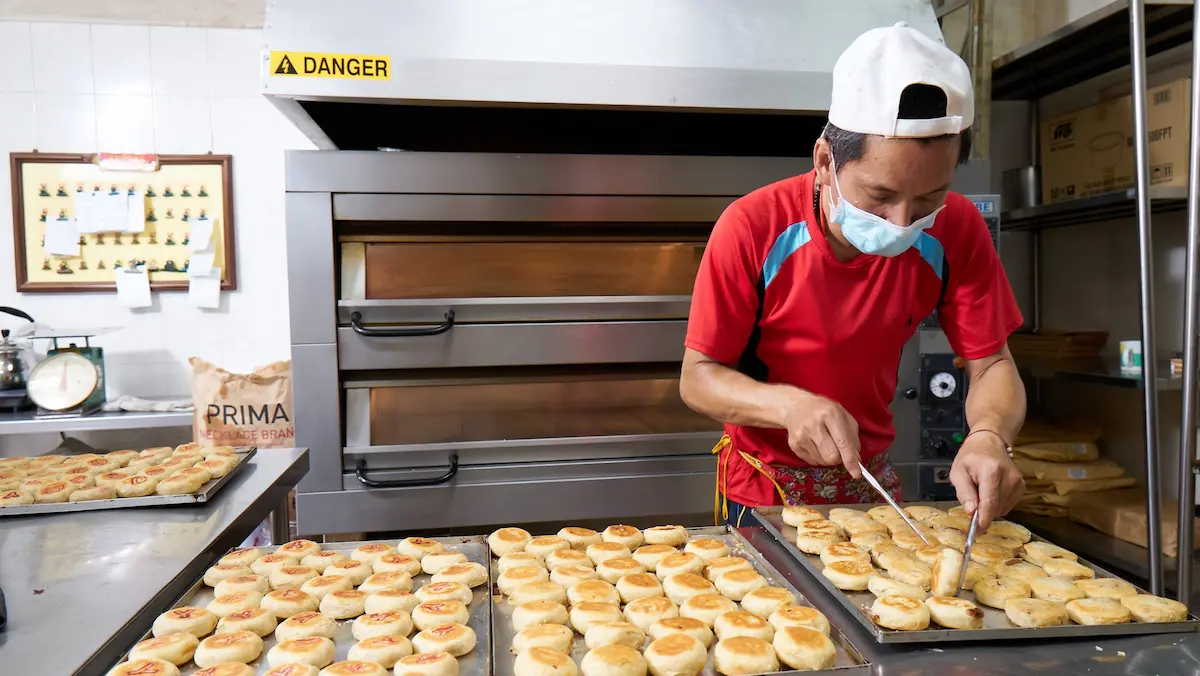 Over 25 years ago, Mr Heng Hung Guan and his wife began baking and selling warm, flaky and vegan-friendly tau sar piah—made with traditional methods and recipes. Housed at Balestier Road among other traditional snack stores, House of Tau Sar Piah quickly became a neighbourhood favourite and continues to preserve local heritage with their pastries.
For over two decades, the business thrived on walk-ins from regular customers and worshippers from the Kuan Im Tng temple next door. The demand for handmade traditional snacks was high and House of Tau Sar Piah had built a reputation for themselves as providers of freshly baked, high-quality vegetarian goods.
Despite a solid foundation and years of success, the bakery began to struggle in the midst of the COVID-19 pandemic. Aware of the effect of the pandemic on local businesses, local entrepreneurs, Mr Max Goh and Mrs Kimmy Goh of food manufacturing company Between Meals approached Mr Heng to find out how they can help keep the business and tradition alive.
With Mr Heng's blessing and recipes, Between Meals took over management of the establishment. For the new owners, they realized that the adoption of digital solutions would be key to giving the business a lifeline to survive and continue providing warm piahs for the neighbourhood.
Taking a digital step forward
Aware of the challenges of running a business during a pandemic, Mr and Mrs Goh set out to identify the best way to improve both sales and operational efficiency. Analytical and precise, they decided data would be the best place to start.
"Both of us have been in the IT industry for a long time and understand the value of data analytics," shared Mrs Goh. "We needed data for production, sales and outreach."
We had fewer walk-ins because of COVID-19 restrictions and customers staying home, We needed to find ways to remind people of House of Tau Sar Piah and ways to get the products to them without leaving the house.
Mrs Kimmy Goh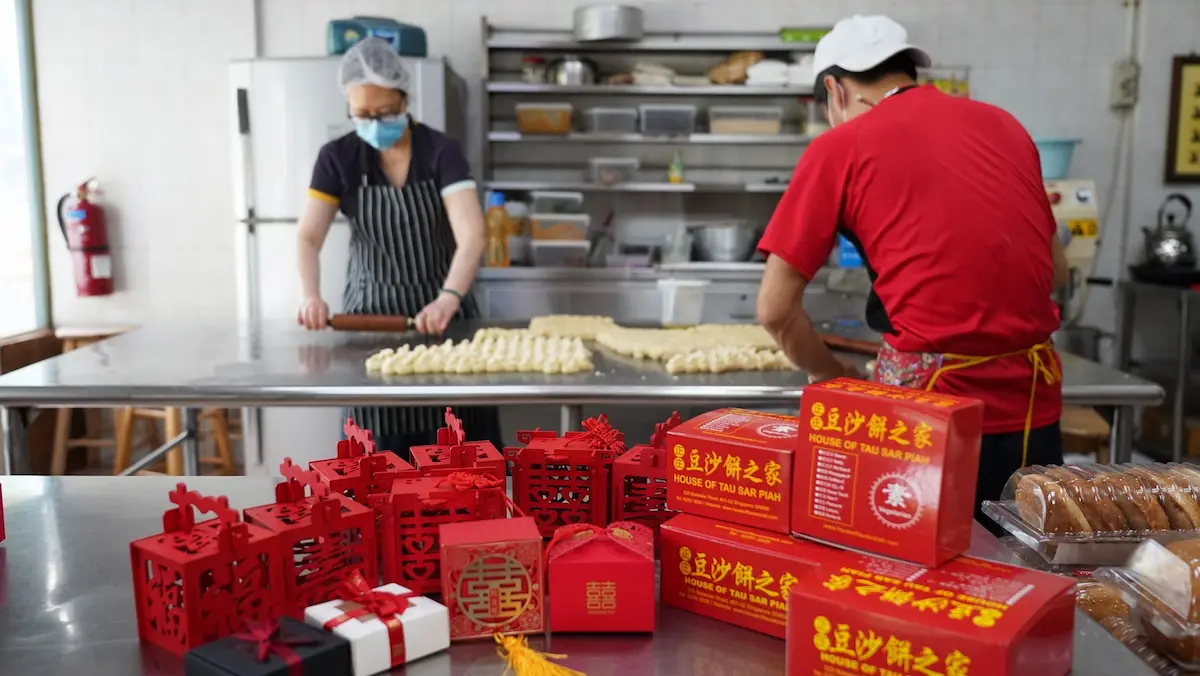 After identifying major challenges like reaching customers at home, Between Meals tapped on IMDA's SMEs Go Digital programme to adopt digital solutions that helped them launch a website and a Point of Sales (POS) system with funding support from the Productivity Solutions Grant.
With the implementation of a POS system, the new managers could gather concrete data on the bakery's most in-demand products. Previously, without such information, planning production had been difficult and the store would either sell-out early or have a heap of leftovers. The owners could not just sell the leftover supply the next day either, as doing so would break the brand promise of providing freshly baked snacks.
Additionally, the original cash register relied on manually totalling the cost of differently priced products—making checkout inefficient. Now, prices can be quickly tallied without error, resulting in less stress for employees and greater confidence from customers.
The POS system also keeps track of popular flavours, modes of payment and cash flow. The sales data also helps with planning for production based on these consumer trends, effectively reducing food waste generated by the bakery.
At the same time, Between Meals also prioritised implementing a pre-approved e-commerce solution, and launched a website for customers to place orders beginning of 2020. Through the website, customers can place orders and have their tau sar piah delivered straight to their doorstep. The website also offers new payment options like credit card and cashless payments, providing customers with a smooth and convenient online shopping experience.
We prioritised the POS and website because we felt it was important to understand the business, raise consumer awareness and get delivery up and running.
Mrs Goh
Since implementing these digital solutions, House of Tau Sar Piah has seen a 10 per cent increase in revenue and a five per cent reduction in operating expenses.
With IMDA's Productivity Solutions Grant making digitalisation simple and seamless, House of Tau Sar Piah has been able to harness modern technology to maintain Mr Heng's 25-year-old legacy of delicious freshly baked pastries in Singapore.
Is your company looking to go digital? Find out how SMEs Go Digital can help.