AIMing high towards a dynamic digital future
By Jill Arul
Often fondly described as a 'Little Red Dot', Singapore has since overcome geographic and resource limitations to emerge a leading digital economy. Today, the Republic is recognised by the 2020 Smart City Index as the world's smartest city, with its rapid growth fuelled by the country's most valuable resource: people. From policymakers to engineers, Singapore's technological advancements are made possible by talented individuals working behind the scenes.
As architects of Singapore's digital future, the Infocomm Media Development Authority (IMDA) has put into place initiatives to nurture and ensure a steady stream of such talent. Through the Associate in Infocomm Media (AIM) Graduate Development Programme, IMDA engages and nurtures fresh graduates over a two-year programme—providing invaluable digital career opportunities for our young to help shape the nation's dynamic digital landscape.
In this article, we turn the spotlight to two bright young minds from the latest AIM batch, diving into their unique tech journeys and uncovering their hopes as they work towards our shared digital future. Through their stories, we gain insights into the opportunities and challenges that come with pursuing a career in the dynamic world of digital transformation.
From blockchain to BizTech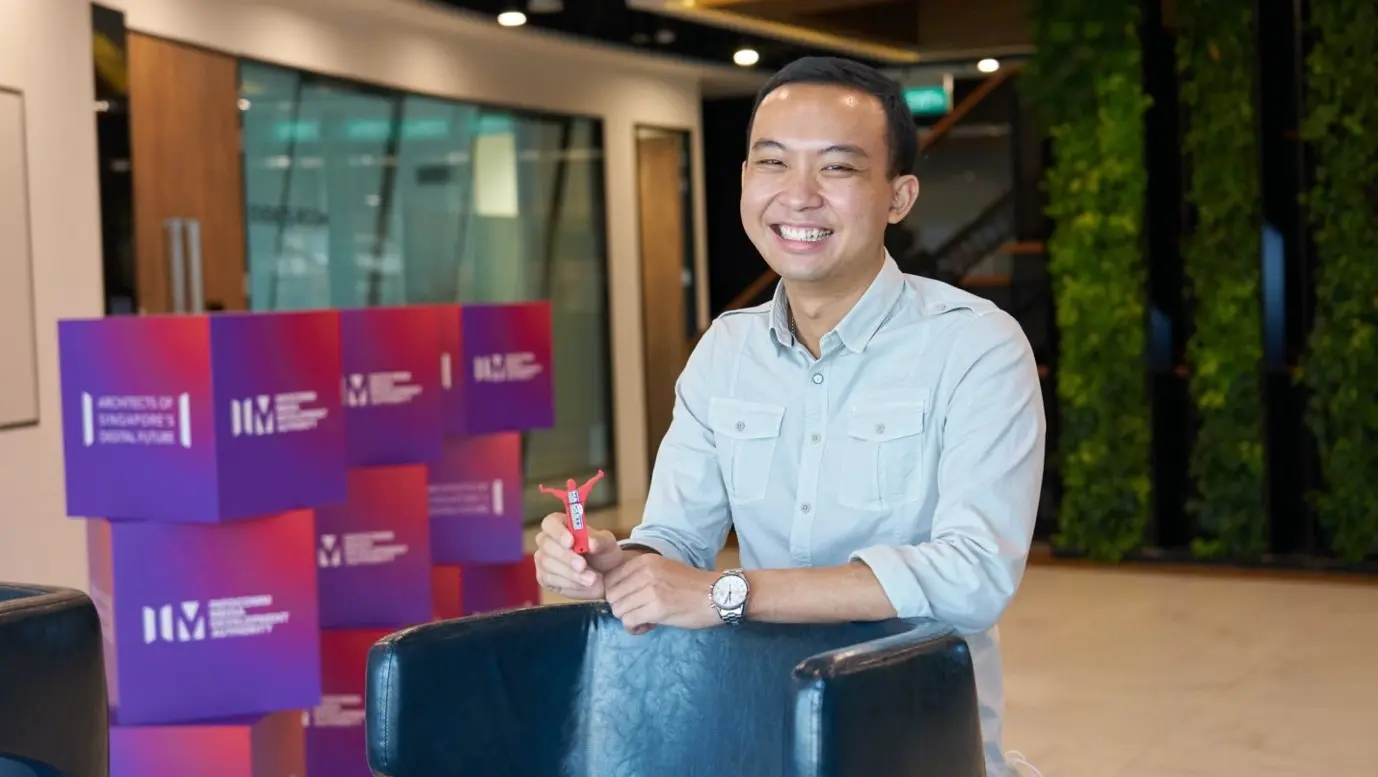 At IMDA, there's a new kid—or rather group—on the block: meet the BizTech Group, which aims to translate frontier research on everything from artificial intelligence (AI) and big data to 5G and digital trust among others, into innovative tech products. For instance, the ongoing nationwide 5G rollout is championed by the Comms and Connectivity Programme Office (C2PO), who are in charge of driving the innovation, translation and commercialisation of communication technologies.
As a member of C2PO's Engineering division, Assistant Manager Mr Tan Jun Ming came to IMDA with a degree in Electronics Engineering from the National University of Singapore (NUS). Mr Tan's tech journey began after a two-day foundational course on blockchain. During the course, it quickly became clear to Mr Tan that blockchain and frontier technologies would play a central role in Singapore's digital future—inspiring him to leave his previous engineering role to pursue the full-time SGUnited Skills Blockchain Talent Programme by Singapore Polytechnic and Blockchain Association Singapore.
Beyond blockchain, Mr Tan's current role at C2PO provides numerous opportunities for learning as much as possible about Singapore's thriving technology ecosystem.
When the posting came out, I approached it with an open mind. For example, I believe 5G will be a foundational block for further tech to be built upon. As 5G is established in Singapore, more technologies will follow.
Firmly bitten by the blockchain bug, Mr Tan dove into the technology head-first, leading him to join the AIM programme to continue working on other emerging technologies. Staying true to his motto to "never be afraid to start all over again—to learn, unlearn and relearn," he hopes to someday shift from his current engineering responsibilities towards a more regulatory role with sweeping impacts on Singapore's buzzing technology sector.
Going forward to give back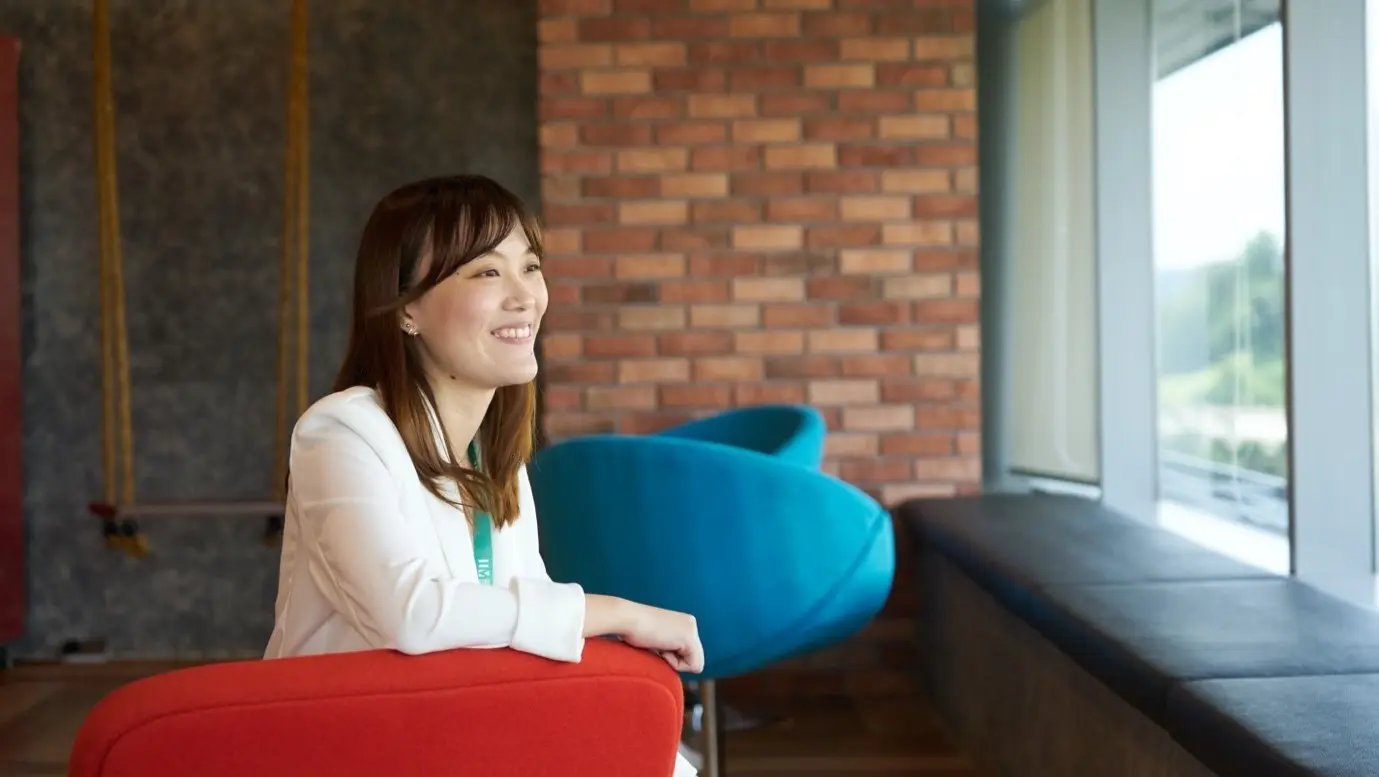 Meanwhile, over at the Media and Innovation Group, Assistant Manager Ms Crystal Chan also shares Mr Tan's excitement for the future of blockchain—albeit for a different reason. "Implementing blockchain would bring larger revenues to [local] content creators, allowing Singapore's media industry to grow internationally," she enthused. As part of the Public Service Broadcasting division, Ms Chan will be supporting the production of content celebrating the country's diverse cultural mix using digital platforms. To provide a holistic learning experience, the AIM programme exposes fresh graduates to different work within IMDA under a Major/Minor portfolio system. Under this system, Ms Chan is also involved in content marketing under her minor portfolio—giving her the opportunity to understand how different areas contribute to Singapore's media industry.
According to Ms Chan, her interest in the digital world was first piqued while pursuing her diploma in Chinese Media and Communications at Ngee Ann Polytechnic. During the school's overseas innovation programme, her team had to develop a marketing strategy for the beauty and wellness app Vanitee as it expanded into Hong Kong.
"This experience enriched my understanding on how innovation and technology could open up new markets for opportunities and growth for businesses," she recalled. "I may have been new in the area of technology, but my experience in Hong Kong gave me the courage to go against the grain and [come up with my own tech start-up]."
While women currently make up only around 30 percent of Singapore's tech industry, Ms Chan believes that a sea change is on the horizon.
Women are getting more recognition in the industry. When we are good at what we do, people can see it.
Today, as a fresh graduate of the AIM programme, Ms Chan's enthusiasm is only matched by her desire to contribute to the nation's growth as a proud woman in tech—a goal she hopes to achieve in her time at IMDA. "I want to pay it forward by providing Singaporeans with a holistic coverage of issues and content through various platforms," she explained.
"Joining IMDA will allow me to be a part of driving the digital economy," added Ms Chan. "Being a part of the AIM programme would give me the exposure and opportunity to come up with fresh ideas to engage with the public and encourage them to adopt digital technologies to foster an inclusive digital society."
From Mr Tan and Ms Chan's stories, it's clear that the digital economy will be driven by young talents with a passion for both technology and public service. With IMDA's AIM programme fostering more of these promising individuals—rest assured, Singapore's digital future is looking bright.
Curious about what goes on behind the scenes at IMDA? Stay tuned for more articles on the passionate individuals who are propelling Singapore into a digital future!
Are you passionate about technology? Interested in gaining broad-based exposure while driving Singapore's digital growth? Find out more about the opportunities available here.