Meet the young talents driving Singapore's digital policy
By Jill Arul
Singapore has been at the forefront of digitalisation, recognising the importance of technology in driving economic growth and enhancing the quality of life for citizens. From Alibaba to Zoom, new digital options have taken the world by storm. Designed for quicker communication, and more efficient services, ever-evolving innovation is constantly reinforcing the growing impact of technology in our daily lives. Apart from convenience, digital solutions also remain integral to industry processes as advancements like artificial intelligence (AI) and robotics change the way businesses operate.
However, as technology continues to progress at warp speed, policies must be created to ensure such advancements are implemented fairly and ethically. With the right frameworks in place, digital growth can be both regulated and encouraged—a feat that can only be achieved by striking a balance between monitoring application and empowering breakthroughs. To walk that fine line, the Infocomm Media Development Authority (IMDA) has dedicated teams working behind the scenes to deliver such frameworks.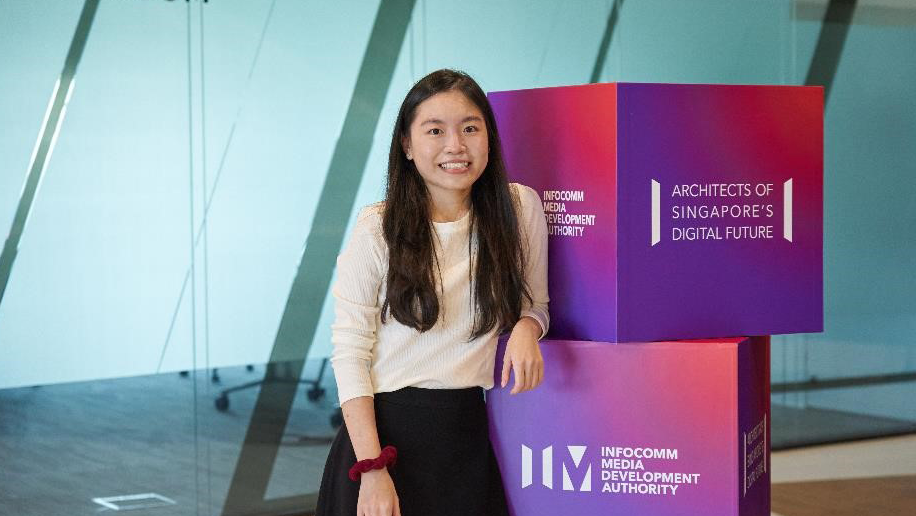 As the architect of Singapore's digital future, IMDA has created initiatives like the Associate in Infocomm Media (AIM) Graduate Development Programme to ensure a steady supply of young talent competent in both technical and policy-oriented roles. Here, we meet three of them to learn how they are driving the nation forward.
Finding purpose through digital innovation
Standing at the forefront of Singapore's digital economy and society, Ms Lim Pei Ying has a holistic view of the nation's information communication and media landscape as the Assistant Manager for IMDA's International Policy & Strategy Group. Aware of the social impact of creating and adapting policy, Ms Lim was thrilled to begin her career in a role that would allow her to do high-impact, challenging and meaningful work.
Having always been interested in technological innovations and believing in tech for social good, I knew I wanted a career engaged in driving innovation and disruptive technologies for social impact.
Ms Lim Pei Ying
One technology that policy has been racing to keep up with is AI, which is fast becoming entrenched across all business functions, despite the potential presence of biases. It also happens to be a field that appeals to Ms Lim, particularly AI's application in bioinformatics.
"From solving evolutionary genetics questions to more rapid protein structure modelling, the applications of AI in bioinformatics pose a far-reaching impact across various industries. It is exciting how far the field has come in just a few decades," she said.
Earlier this year, Ms Lim came to IMDA as a fresh graduate of Computer Engineering specialising in Interactive Digital Media from the National University of Singapore (NUS). Her inspiration to dive into the world of tech came as convenient media services like Netflix became more prevalent, allowing her to enjoy media content at her leisure.
After experiencing first-hand the uplifting effects of digital advancements, Ms Lim was determined to place herself at the intersection of media and technology—a goal the AIM programme has helped her achieve. Strongly advocating for social good, she now believes that a career in media and digital policy will allow her to implement as much positive change as possible.
The data behind decision-making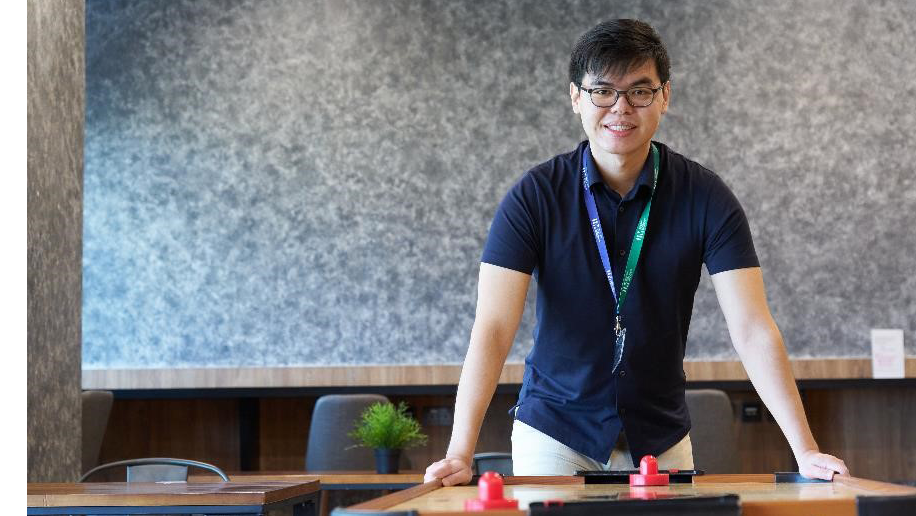 Like Ms Lim, Mr Andrew Kong hails from NUS but with a degree in Economics. With an enthusiasm for data analysis and modelling, combined with his background in economics, Mr Kong joined the AIM programme to fulfil his aspiration of working in the public sector.
"I believe the idea of Singapore becoming a Smart Nation is an inevitable future and I would love to play a role in advancing toward that goal," he explained. "Using my background in economics, I enjoy analysing data and figuring out how to best improve current policies to propel Singapore's growth as a potential IT hub."
Upon graduation, Mr Kong joined IMDA's Corporate Planning and Research Division as Assistant Manager with the hope of leveraging his economic expertise and pursuing his long-standing interest in technology.
IMDA is a place where I can pursue my passion for technology as well as apply the knowledge I learnt in my undergraduate studies.
Mr Andrew Kong
Inspired to combine data and economics during his time at NUS, Mr Kong recalls working on a project using real-world data and realising how vital programming and analysis skills were to economics. This marked a turning point as he directed his career towards using data science to apply theoretical models to real-world situations—a skill that will serve him well at IMDA as he navigates the data that supports policy and decision-making.
Throughout his two-year long training with the AIM programme, Mr Kong will have the chance to work with multiple divisions and committees at the forefront of Singapore's digital transformation. In line with his personal motto—'Opportunity comes to those who are most prepared'—his experience at IMDA will surely prepare him for the road ahead.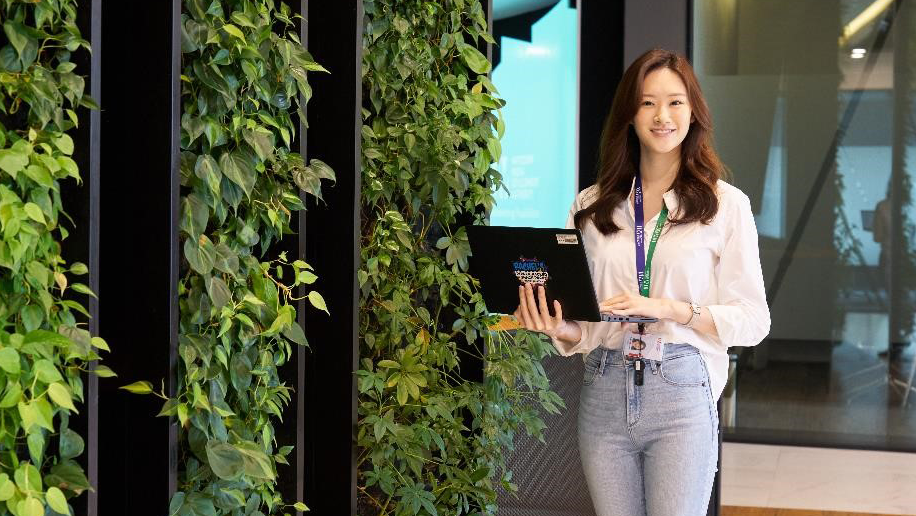 Upskilling businesses with technology
Ms Rachel Ma is another young trailblazer who joined IMDA intending to effect social change in the infocomm media space. No stranger to the sector, her interest was sparked during an internship where she assisted start-ups through digital transformations. As she helped SMEs automate their internal processes, she grew to appreciate digitalisation and was inspired to join IMDA.
Today she is an Assistant Manager with the Digital Industry and Talent and Digital Industry Singapore Groups—initiatives dedicated to empowering businesses through technology by guiding policies and investments that enhance the nation's digital infrastructure.
Naturally curious, Ms Ma is excited by all forms of technology, making her the ideal candidate to help businesses explore the myriad of digital options available to them.
We never know where the next big thing might come from. What intrigues me most is how technology is used to solve problems.
Ms Rachel Ma
In addition to problem-solving, Ms Ma is acutely aware of the growing impact of technology in our daily lives—a fact that requires adjusted regulation and policy in spaces where development is most prevalent. "Our use of smartphones has changed everything," she said. "It has changed the way I travel, communicate, shop and pay."
Ultimately, Ms Ma's motto—'Be humble, be teachable and always keep learning'—puts her in good stead for the next two years of robust training and leadership with the AIM programme.
United by their keen interest in technology, dedication to advancing Singapore's digital policy and the holistic training they are receiving from IMDA, AIM graduates Ms Lim, Mr Kong and Ms Ma are all set to contribute to the nation's digital future. With them at the helm, we can be certain that Singapore is being shaped by passionate and capable young talent.
Interested in deepening your expertise in tech? Looking for a dynamic opportunity to drive lasting change in the digital economy? Learn more about opportunities to contribute to Singapore's digital transformation journey through the Associate in Infocomm Media (AIM) Graduate Development Programme.