Pondok Abang finds their digital footing
By Kami Navarro
Fast. Convenient. Delicious. These are the words that Muslim-owned halal food manufacturer Pondok Abang live by. Amid the speedy pace of modern life, easy-to-cook yet quality meals have gained popularity, making Pondok Abang and their wide range of products a mainstay in many Singaporean homes.
But its owners have bigger dreams. Hoping to someday bring Pondok Abang beyond local shores, the enterprise needed to implement more scalable and sustainable processes—fast. To do so, they turned to Infocomm Media Development Authority's (IMDA) SMEs Go Digital programme, which aims to make going digital simple for SMEs. In this feature, read how Pondok Abang successfully capitalised on the digital technologies supported under the programme to drive growth for their business in today's digital economy.
Halal food from the heart
Founded by Mr Abdul Rahman in 1990, Pondok Abang—Malay for 'brother's hut'—prides itself on offering authentic, affordable traditional food with halal integrity. The humble hawker stall turned halal food manufacturer traces its origins to thirty years ago. At the time, Mr Abdul Rahman was a full-time refuse truck driver. Hoping to better support his family, he started selling curry puffs from the back of his motorcycle to factory workers at Tuas.
After sixteen years, Mr Abdul Rahman decided to go into the food business full-time—leaving his previous job to set up a food stall selling Chinese rojak. "Over time, I opened more stalls selling Malay, Chinese and Western food," recalled Mr Abdul Rahman. "In 2008, I bought my central kitchen in Jurong Food Hub to supply my stalls and started to manufacture and supply food products used by hawkers."
With the growing success of his manufacturing business, he closed all stalls except for one in Clementi—and thus, Pondok Abang was born. Today, the company produces over a hundred products ranging from Mr Abdul Rahman's beloved curry puffs to hearty, ready-to-eat meals like beef rendang.
Moving forward in the digital age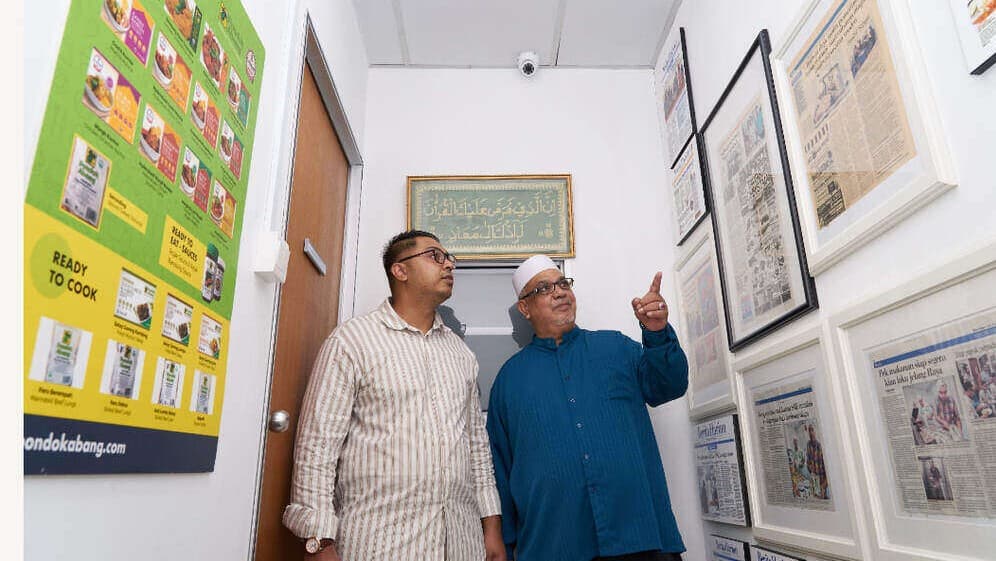 While other children were running in the playground, Mr Abdul Rahman's son, Mr Hasan Abdul Rahman was already learning the ropes of running a food business at the tender age of seven. Sure enough, Mr Hasan had no qualms when his father entrusted the business over to him in 2015—only big dreams to expand the business beyond Singapore's shores.
"I impressed upon him the importance of hard work for our livelihood as he helped the stall in food preparation, light cooking and servicing customers," fondly recalled Mr Abdul Rahman. "Now, he manages the day-to-day operations while doing business development."
As a true-blue digital native, Mr Hasan knew that for Pondok Abang to grow at scale, it was unsustainable to continue hiring workers or building bigger food manufacturing hubs. Instead, productivity would have to be increased through digitalisation. Despite not being as tech-savvy, Mr Abdul Rahman was supportive of his son's efforts from the get-go, knowing that going digital was the only way for Pondok Abang to propel forward.
We needed to increase productivity and efficiency so that we could expand. Going digital opens doors to new business opportunities and revenue streams as well as enables us to create new products. It also means reducing our carbon footprint through less paperwork, and allows for a faster pace of work.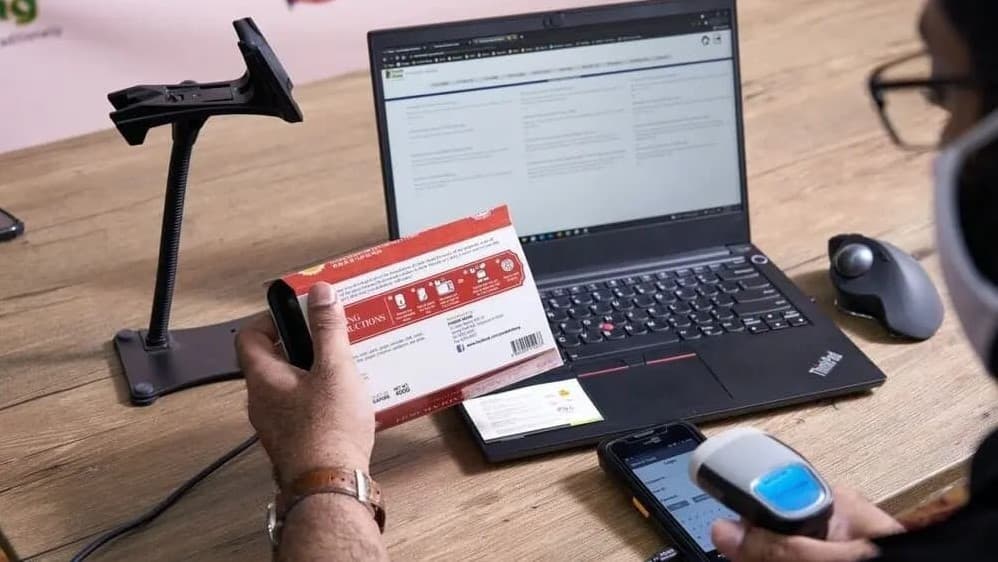 Keeping this in mind, Mr Hasan turned to the SME Digital Tech Hub following a referral from an SME Centre, in hopes of learning how to form a clear digitalisation strategy. Helpfully, the team provided much-needed advice on how the SMEs Go Digital programme could ease the process, even identifying pre-approved vendors as well as grants to offset the costs of acquiring the digital solutions.
Right away, Mr Hasan started bringing Pondok Abang into the digital age by adopting software solutions as advised by the SME Digital Tech Hub team. Facing a growing product turnover, the company swiftly enforced an inventory management system which employs barcodes to accurately track each unique item.
To assure hungry customers that meals are on the way, the company has also launched a vehicle tracking system which utilises the Global Positioning System (GPS) to provide live updates on their delivery services. Having been pre-approved by IMDA, both solutions were acquired by Pondok Abang with funding support from the Productivity Solutions Grant, which helped save money on solutions that would otherwise have been too expensive to implement.
In the same vein, Pondok Abang has taken its accounting and human resource operations online with the aim of reducing manpower costs — gone are the days of manually generated invoices, calculating inventories and physically processing payrolls.
The solutions have allowed us to spend less man-hours spent on some processes, and we did not need to hire extra personnel to do work that could be done digitally. Data is now available immediately. With the insights from auto-generated graphs, we can make business decisions faster and more accurately, which helps in growing our revenue.
New horizons online and overseas
With the help of these digital solutions and his son's forward-looking management style, Mr Abdul Rahman is confident that Pondok Abang is well-positioned to establish an overseas presence. After all, operations have never been more efficient—freeing the team to conquer the new challenges that come with expansion.
"Our global expansion plans include overseas export, with the view of providing better food security for Singapore, ensuring halal integrity of our products and offering authentic cultural food at affordable prices," he said. "With my son now managing the business, we have an ambitious strategy to take the business to further heights."
Indeed, by 2030, the company aims to become the best full-value chain halal manufacturer and a listed organisation. Although going digital may seem daunting for many SMEs, as Pondok Abang has shown, the SMEs Go Digital programme can be a guiding light for businesses undergoing digital transformation.
We encourage companies to speak to business advisors from various SME centres to get a good idea of the options available.
Photos by Cyril Ng.
Looking to make the digital leap? The SMEs Go Digital programme aims to help SMEs use digital technologies and build stronger digital capabilities to seize growth opportunities in the digital economy. Find out more about the SMEs Go Digital programme here.